CERTIFICATES

CONTACT US

Email:jackdu999@yahoo.com

Tel:+8675586718316
Phone:+86-15811882441
Israel &Ukraine customers order perfume filling capping labeling cartoning overwrapping line
Published by: PENGLAI INDUSTRIAL CORPORATION
Date:2016-11-25 14:53:34
Our customers from Israel&Ukraine on the end of last month (August) came to our factory for a check at the perfume filling line which includes the machine as follow : bottles turntable 2pcs+vacuum filling machine+screw capping +double sided labeling+cartoning machine+group boxes overwrapping machine;Due to tight time schedule the customers in China only checked the machines for one days when our engineer kept being busy for testing and adjusting the machinery. In the video you can see these guys from whole afternoon to deep night has been working on integrating the whole line .
According to our discussion in 5-star hotel where our customers stayed there we will add some customization on the machine like the stop system to control the whole line : once one machine stops running the other machines in the whole line will stop running at the same time; There should be with another automatic crimping machine which replaces the labeling machine at the same length(Noted:the machine crimper perfume bottles is newly-ordered).
Our customers took flight back to Israle&Ukraine via Moscow following the day. We will shot the clear film for the whole line including every details like name board with machine model / touch screen language in Russian&English/running process for every machine in the line etc ;
After we customized the machines according to customer's suggestions we shipped the machines to Ukraine when we received the balance payment for the perfume filling line.
As below there is the basic information for the sucessful business transaction:
Samples sent from customer:

Contract signed between PENGLAI and Israel counterpart

Bank copy for advance payment

Machine testing in whole line


Wooden case packing for the whole line
As below there listed the basic information for the perfume filling line
Our customer from Ukraine places the order for the whole line like filling capping cartoning labeling etc which are listed as below:
¢ñ.Bottles turntable for feeding&collecting the bottles YX-BS12
¢ò.Overflow filling machine 10heads YX-OF
¢ó.High speed capping machine YX-C03
¢ô.Flat&round bottles labeling machine model YX-650A
¢õ.Automatic Cartoning machine YX-CP100
¢ö.Group Boxes Overwrapping machinery YX-200A
Here we put all the machine and their model number into one videos in order to clarify every thing .
This whole line is specially designed according to our customer's bottles sizes and shapes and upon our customer's requirement.
the machines from bottles feeding table to overwrapping boxes and collecting equipment apply for the packaging line in cosmetic industry;
Herewith the information for the machines respectively
¢ñ.Bottles turntable for feeding&collecting the bottles YX-BS12
This unscramble bottle machine is the artificial bottles in the round table, wheel rotation will have to dial the conveyor belt into the bottle, into the filling machine for filling. Easy to use, simple operation is one of the indispensable link
Related equipment: the following equipment can be selected, can form unscramble bottle-filling-capping-labeling-the production line
Main Technical specifications
| | |
| --- | --- |
| Applicable specifications | 20-1000 ml |
| Bottle diameter | φ 10-φ80 mm |
| The bottle height | 85-300 mm |
| Production capacity | 0-100 BPM (speed adjustable) |
| Voltage | 220 v50hz |
| Power | 0.5 kw |
| Weight | 100kg |
| Machine size | 1300*1000*1300mm |
| Stainless steel | SUS304 material |
Major Characteristics:
The template of this machine adopts stepless speed adjust foe slew, make all the bottles enter into conveyer belt in order under the rotary tangential force, less labor, boost production efficiency.
This machine can be used after electrified. Easing operating, it can be widely used for glass bottles, plastic bottles and polyester bottles for pharmaceutical, agrochemical, food, chemical etc. It is a
Good choice for small, medium, large factory.
¢ò.Gravity filling machine 1-20heads YX-OF
Automatic overflow filling machine for soamy liquid filler glass bottles liquid levels sensor measurement filling machinery

Model YX-OF series for oil/liquid detergent/oil/perfume/etc
PENGLAI YX SERIES automatic overflow filling machine is typically used in consumer packaging applications where a consistent visual (cosmetic) fill level is required.
Drawing of overflow liquid filler equipment model YX-OF06 (examples with 6 heads overflow filler equipment)
The desired liquid product to be filled is held in a stainless steel reservoir, then pumped into a manifold to disperse product to each of your filling nozzles. Once the product reaches your desired cosmetic fill level in each bottle, excess product or foam overflows back to the reservoir. Advantages of the overflow filler include even fill levels, variable pressure pump speed control (to reduce foam), and ease of operation.
This Filler is manufactured with a heavy duty 304 stainless steel, high quality tig-welded tube frame and is available with 1 to 16 Fill Heads. It also comes standard with PLC Controls and color touch screen HMI, a stainless steel reservoir, and Pneumatic Indexing Gates, plus many more features. Options are available for even more versatility.
automatic overflow filling machine are commonly used for filling beverages and other thin products, especially where foam or bottle inconsistency might be an issue. NPACK automatic Overflow Filling can be built to suit sanitary, hazardous, flammable and corrosive environments.
automatic overflow filling machineTechnicals
No. of filling nozzles: 1-20 heads
Filling volume: 1ml to 10000ml
Air pressure range: 0.4~0.6MPa
Power supply: 220V±5% 50/60Hz
Power consumption: 0.8kw
Single machine noise: ≤50dB
Net weight: 600kg
Overall Dimension(mm): L*W*H=1600×1000×1800mm
automatic overflow filling machine Characteristic:
Man-machine English interface, intelligent contact screen, human design, easy operation.
Special overflow filling nozzles, accuracy level filling.
Program logic controller (PLC),
it is easy for changing size or modifying parameters.
Pneumatic elements are all imported, stability and reliability.
Photo-electric sensing and pneumatic linking control, automatic protection for shortage of bottle.
Close positioning design, easy governing, suitable for packing of all sizes of bottles.
The whole machine is designed according to requirements of GMP.
Options:
-Filling nozzles can be equipped according to the output.
¢ó.High speed capping machine YX-C03
Basic Parameters of screw capping machine
| | |
| --- | --- |
| Type | YX-C03 |
| Production capacity | 80-160 Caps /min |
| Cap size | 10-50/35-140mm |
| Bottle diameter | 35-140mm |
| Bottle height | 38~300mm |
| Size(L×W×H) | 3000×1200×2000mm |
| Weight | 400kg |
FEATURES of pump caps capping machine:
Model YX-C03 automatic high speed cap machine is the latest improvement of a new
type of capping machine. Aircraft elegant appearance, smart, capping speed, high
pass rate, applied to food, pharmaceutical, cosmetic, pesticides, cosmetics and
other industries ofdifferent shaped screw-cap bottles.Four speed motors are used
for cover bottle clip, transmit, capping, machine high degree of automation, stability,
easy to adjust, or replace the bottle cap when not spare parts, Just make adjustments
to complete.
Remarks:
1.no bottle no cap facility
2.Different sizes of cap,no need additional tools,easy to adjust
3.Automatic cap-unscrambler,cap-feeding,bottle-fasten,cap-screwing
4.Tested and adjusted before delivery
5.English operation manual and relative spare parts offer
¢ô.automatic round&flat bottles labeling machine model YX-650A

The drawing of automatic double sided labeling machine for flat bottles :
The pressure between the active axle and press roller can be adjusted , so the running direction of the lanel can be adjusted freely, The label is only pressed flexibly without causing any distortion . The labeling head adopts the structure of the double press rollersl, it guarantees that the label is pulled tightly but not broken because of the underneath paper die-cutting , the separated clutch makes the strain more balanced.
The touch screen based human interface in Russian and English with one online helping system makes it easy for operate the machine. The press belt is feared into the main transporting line , so it makes the two transporting lines work in synchronous absolutely.
The machine is supplied with the famous sever motor ,so it realizes real closed loop controlling and it avoids the phenomenon of "the blind man walk" when supplied with the stepper motor.
The multi channel encoder detects labeling position precisely at high speed.
The label is pressed by a flap after appying on bottle and pressed by the active and passive sponge rollers.so when the label is stuck it has not any bladder,
It is especially applicable to the crystal bottles labled with transparent labels. The optional air driving and roller labeling set can label round bottles precisely.
Basic parameters of bottle labeling YX-650A automatic double sided labeller equipment for flat&round bottles: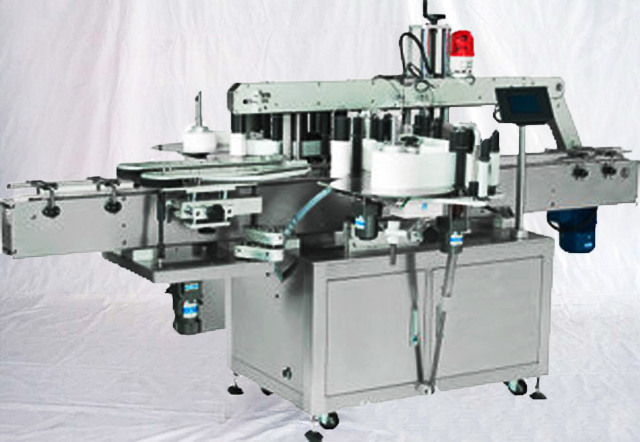 Model YX-650A
¡öVoltage Specification: AC220V/380V, 50/60HZ Single-phase
¡ö Power: 2.2KW/220V(US power standard adjustable)
¡ö Labeling Speed: 40-50pcs/min.
¡ö Labeling Precision: ±1 mm (errors of labeled objects and labels exclusive)
¡ö Air Source for labeling: 5kg/cm2
¡ö Applicable Vessel Range: 15-150mm in length, 10-100mm in diameter, 40-350mm in height
¡ö Applicable Label: 15-180mm in height, 10-200mm in length.
¡ö Max Label: 420mm in diameter, 76mm in inner diameter of paper roll.
¡ö Label Gap: 3-4mm
¡ö Gap between upper and lower sides of label and upper and lower sides of backing paper: 2mm
¢õ.Automatic Cartoning machine YX-CP100
This is mainly used in medicine, food, health care products, cosmetics, audio-visual products, and other industries square exterior decoration items boxed packaging. Such as kit, gum, health products, tea, sugar, condoms, rubber, mosquito coils, cigarettes, tape, VCD (CD) CD, playing cards, transparent soap, square battery, floppy disks, etc. play a security, the role of moisture, and improve product quality, increase product added value. The machine can use in the production line, work with the carton packing machine.
Characteristics of soap boxes cartoning equipment fully automatic:
1.It adopts PLC control, frequency inverters control speed, electrical element are all used international famous brand;
2. Adopt human-machine interface
3.Automatically displaying device for malfunction, cartoning speed and finished products counting;
4.Automatic check the neglected cartoning and waste picked out for products and leaflet
5.It is easy to understand and operate, work stably.
6.It doesn't inhale leaflet without products and dosen't inhale box without leaflet.
7.It idles and doesn't push products if there is no products or products supply does not reach the designated position. Machine will work automatically with reinstatement of products supply
8.It stops automatically if there is no box or continuous no leaflet.
9.It is easy to replace different products.
10.The machine can be used alone,besides,it can be linked to work with blister packing machine,bottle filling machine and heat shrink packing machine.

Videos of how to adjust the cartoning machine automatic
Basic parameter of automatic cartoning equipment boxing equipment:
PROJECT

PARAMETER

Encasing speed

30-120 case/min

Box

Quality requirement

250-350g/m*m

Dimension range (L× W× H)

(50-180)mm* (30-85)mm* (15-50)mm

Leaflet

Quality requirement

50-65g/m²

Unfolded leaflet specification L× W

(80-300)mm*(70-210)mm

Folded leafilet specification(1-4)*(L× W)

(70-210)mm*(20-40)mm

Compressed air

Working pressure

0.5-0.7mpa

Air consumption

120-160L/min

Power supply

220V 50HZ

Motor power

1.5kw

Machine dimension(L× W× H)

3200mm* 1200mm* 1900mm

Machine weight

1500kg
¢ö.Group Boxes Overwrapping machinery YX-200A
Cellophane overwrapping machine is used for wrapping the square, rectangular and even trapezium shaped product with a layer of cellophane paper the same as the packaging of cigarette.
Suitable for single and bundles packaging of various pharmaceuticals, condom, health-care products, confectionery, chewing gum, tea, coffees perfumes, cosmetics, notepad, scratchpad, stationery , eraser, digitalmedia , VCD/DVD/CD cassette, tape, tobaccos, playing cards , napkin paper, etc.
Functional Features

This machine is designed on the basis of absorbing,digesting and improving the advanced science and technology from Europe and Japan, using imported PLC control and electric components, which is drived by pneumatic cylinder, the servo motor controls the film falling, the setting and adjustment of the film length could be adjusted freely, at the advantage of stable and reliable operation,high speed,a firm packing, smooth and beautiful. the frame of machine is made up of imported high quality nice aluminium alloy or stainless steel and closed safe glass shield, It could do packing, feeding, folding, heat-sealing, counting and sticky tear tape automatically. malfunction automatic self-diagnosing and alarming, Changing few parts could wrap different specification (dimension, height, width) of different products. Can be used with cartoning machine,save money,reduce human resouce,improve effect.
Performance Parameter of high speed servor motor materials feeding 3D overwrapping

| | | |
| --- | --- | --- |
| Model | YX-200 Button controlling | YX-200A PLC touch screen system |
| Packaging speed | 30-60boxes/min | 30-60boxes/min |
| Packaging size | (L)65-270mm(W)60-150mm(H)20-90mm | (L)100-400mm(W)45-240mm(H)20-115mm |
| Machine dimension | (L)2300mm(W)860mm(H)1670mm | (L)2180mm(W)1000mm(H)1500mm |
| Conveyor dimension | (L)1650mm(W)450mm(H)950mm | (L)1600mm(W)270mm(H)770mm |
| Weight | 900kg | 800kg |
| Total power | 6.5kw | 6.5kw |
| Voltage | 3N AC 380V 50HZ | 3N AC 380V 50HZ |
| Air pressure | 0.5-0.7Mpa | 0.5-0.7Mpa |
After-sales for production filling line olive filler capper labeller equipment:
Guarantee: for all the machine, it claims three years for guarantee.(Excluded from the warranty are problems due to accidents, misuse , misapplication, storage damage, negligence, or modification to the Equipment or its components. ALSO THE EASY BROKEN SPARE PART IS NOT INCLUDED IN THE GUARANTEE)
Installation: after the machine arrive your factory,if you need,our technician will go to your place to install and test the machine and also training your worker to operating the machine (The time of train depend on you worker). The expenses (air ticket ,food , hotel,the travelling fee on your country) should be on your account and you need paid for the technician USD50 per day. also you can go to our factory to do training.
After service: If you get the problem on the machine ,our technician will go to your place to fixed the machine as soon as possible. The cost should be in your account.(as above).
®ALL RIGHTS RESERVED BY PENGLAI INDUSTRIAL CORPORATION LIMITED