CERTIFICATES

CONTACT US

Email:jackdu999@yahoo.com

Tel:+8675586718316
Phone:+86-15811882441
Ireland buyer purchased dual heads pump filler 60ml perfume two nozzles filling equipment
Published by: PENGLAI INDUSTRIAL CORPORATION
Date:2019-09-03 15:32:05
Our New customers from Ireland (Western Europe) placed another order on one(1*) pcs of machines:Model YX-II magnetic pump filling machine
For all the machines purchased it is clear to confirm all the information on the products so we often ask our customers to freight the samples to test and commission the machines in order that the machines and customer's products gains the best compatibility and adaptability.
After getting the confirmation &samples of the product in sizes and drawing for manufacturing the filling perfume machine
we spent only 5 working days finishing everything and made the machines ready after testing them in a satisfactory feedback.
Recently our customers sent us the positive commentar on the machines which keep running very well in their factory ever since the machines arrived their factory.
The machines was shipped via courier to Ireland . The documentaries certificated with ISO&CO&CE together with other files necessory are sent via DHL to customer for assisting customers to clear the custom.
As below there listed the basic information on the successful transaction between PENGLAI and their European counterpart:
Purchased order issued from European customer:


Samples sent from customers in West Europe


Bank copy of Down&balance payment for purchasing filling perfume 60ML liquid Machine model YX-II:


Testing videos on filling perfume machine semi automatic two nozzles filler machine model YX-II

Wooden case packing of perfume filling machine tabletop type.
As follow there given the description on the machines purchased respectively:
Model YX-II 2 filling nozzles Magnetic Gear Pump Liquid Filling Machine with Double heads

1)The gear pump is drived by magnetic power,the pump head and the motor is connected Without shaft.So there's no need to worry about the burnout of the motor because of the high load of the pump.
2)Pump head and motor is imported from Japan,other components are manufactured in Taiwan,the function is steady and useful life is long.
3)Pumper head is made from 316L stainless steel,acid alkaline, corrosion-resistant.
4)The motor run is adjusted by potentiometer,the degree of accuracy of filling time can be lower to 0.01 second,so that can guarantee the filling accurately,the deviation is under 2%.
5)Filling capacity is from 5ml-any volume according to your need.
6)Fully functional,can be operated by hand,intermittent pedal filling,automatic intermittent filling.Intermittent time can be adjusted.
7)Wide application,almost can be used to filling any flow liquid,especially suitable for oil,washing fluid,Acid base solution,,High corrosion resistance liquid.

Feature of model YX-II magnetic pump filling machine

1)Adopts world-famous frequency conversion controller and imported high-precision multi-circle potentiometer & lockable dial, which makes the flow stable and accurate with a tolerance of -+2%
2) imported magnetic 316L stainless steel gear pump, with reliable quality and longevity
3) small size, easy to operate; convenient for cleaning and sterilizing
4) full function, automatic or semi-automatic available; can be used in production line
5) can be equipped with flexible filling nozzles; normally equipped with single nozzle or double nozzles
6) can fill most types of liquids such as oil, beverage, perfume, water, ink, etc
7) large filling range from 5ml to 10000ml, can be conveniently regulated
8) complete 304 stainless steel mold, which reveals elegant and natural
9) micro-computer control, digital display, clear and easy to use.

Basic parameter of magnetic pump filling machine model YX-II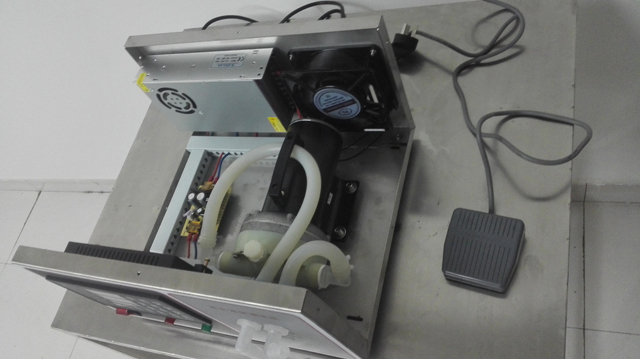 Operation

Automatic or manual operation both ok

Metering system

Gear pump

Pouring Quantity

100-500ml

Filling nozzle

2 filling nozzle

Producing Ability(time/min)

30-60bottles/min

(adjusting to man speed)

Air Consumption

Voltage & Power: 0.24Kw

Measuring Accuracy

±1%

Shipping package size

L450*W410*H350mm

Weight(kg)

60Kg
Application
1) Can fill oil, juice, perfume, ink, water, etc for all containers such as bottles, jars, cans, etc
2) Widely used in cosmetic, drinks, chemical, medical, food industry etc, which can highly improve productivity and product quality.
After-sales on filling machinery model YX-II
¯¯¯¯¯¯¯¯¯¯¯¯¯¯¯¯¯¯¯¯¯¯¯¯¯¯¯¯¯¯¯¯¯¯¯¯¯¯¯¯¯¯¯¯¯¯¯¯¯¯¯¯¯¯¯¯¯¯
Our machines undergo an extensive and strict testing and quality control procedure, ensuring each and every item purchased meet global quality standards.
♦Payment Methods♦
These payments of T/T, L/C, Western Union, MoneyGram,Paypal are accepted. If you have any problem with the payment, please leave a message to us.
♦Logistics♦
DHL, EMS and UPS, Fedex are our choices. If you prefer other reliable shipping company. Please leave a message to us.
♦Tracking Number♦
Tracking number will be informed within 2-3 work days after delivery goods. If you have any problem with it, please leave a message to us.
♦Feedback♦
Any comments, suggestions are accepted. We will be very grateful to your positive footprints left in our company. If you have any problem with our products, please leave a message to us.
♦Refund♦
Any damage or shortage of our goods when you receive your items. Please take some photos for a witness. We will deal with it in 24 hours. Frequently, we will send a new part of items for alternative and heavy-damage, Before refund is accepted, please leave a message to us.

ALL RIGHTS RESERVED by ®PENGLAI INDUSTRIAL CORPORATION LIMITED