CERTIFICATES

CONTACT US

Email:jackdu999@yahoo.com

Tel:+8675586718316
Phone:+86-15811882441
Ireland customer purchases desktop screw capping machine semi automatic plastic bottle capper
Published by: PENGLAI INDUSTRIAL CORPORATION
Date:2016-01-28 17:16:13
Our Irland customer orders one(1*)set of caps capping machine model YX-SCM001; After two day's conversation we closed the deal .He let his chinese friend
in Shenzhen contact me ; when We drived the car and sent the machine to Charlie who was satified at our machine; Soon afterward our Customer in EU
sent the money through paypal .
Tomorrow our customer will come to our place for a discussion on cups filling sealing machine and other plan;
As below there is the basic business information for this sucessful win-win transaction:
Bank slip sent from customer:
Caps bottles for screw capping sent from customer:
Testing run video of machine desktop before delivering to customer's office:
Wooden case packing for desktop capping machinery:
As below there is the basic information for model YX-SCM001 benchtop screw capping machinery:
The model YX-SCM001 desktop screw cappin machine is uitable for the cap screwing of different shapes of bottles in the industries of foodstuff, pharmaceuticals,
daily chemical, pesticide and cosmetics etc. Its four adjustable speed motors are used respectively for cap supplying, bottle clamping, delivering and cap screwing.
It is characterized by high level of automation, outstanding stability, easy adjustment, no need of spare parts for replacing bottle types or caps, which can be done only by adjusting.
¢ñ. Desktop Screw Capping Machine Function: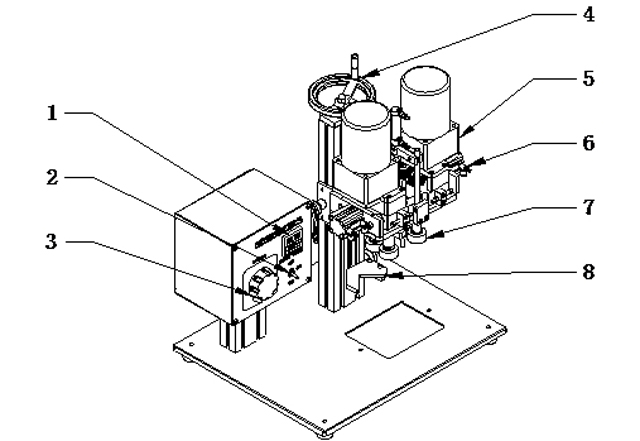 1.Control panel 2.Power switch 3.Torque regulator 4.up and down adjustment 5.capping motor 6.cylinder 7.capping head 8.position withstand
¢ò£ºMain technical parameters:
1. Power Voltage£ºAC220£¯50Hz
2. Cap Diameter£º¡é16-¡é45MM
3. Capping speed£º20-50PCS£¯min
4. Applied bottle height£º40-330MM
5. Air compressure£º0.2-0.6Kgf£¯cm
6. Weight£º25Kg
7. Size£º48(L)£Ø40(W)£Ø60(H)CM
¢ó£ºOperation Precautions:
1. Before using, add ISOVG32 pneumatic gas oil or equivalent oil on the gas source processor.
2. To adjust the capping head according to the bottle height.
3. To adjust the cap size, according to the bottle cap, two sides adjust at the same time.
4. To adjust the position withstand, let the bottle mouth under the center of the capping head.
5. To adjust the Torque regulator meet capping strength.
6. Switch on the power, open the hand sliding switch for gas.
7. Control valve operation, first to pull up the adjustment switch can adjust the air pressure.
8. Manual operation, to connect the food stamp switch under the electric box. Note: To be sure the manual/ automatic button on the red light position.
¢ô£ºTrouble treatment method
1. Machine cannot open, check if it is supply AC220V power or power is damage, transformer burn off, change a new one.
2. Cannot work automatic, manual/automatic doesn't switch, or not open start button, or the wire board in trouble, electromagnetic valve cause it.
3. Motor does not move, torque adjustment switch broken or transformer, capping motor, capping motor start button in trouble.
4. Capping lose or not tight, adjust the torque regulator.¡£
5. Capping motor does not move, check if the power, or electromagnetic valve, wire board in trouble.
6. Cap press cylinder does not move, check if the power, or electromagnetic valve, wire board in trouble.
¢õ£ºOperation panel function:

1. Torsion Force Adjustment
2. Capping pause interval tine display
3. Lock cap time display
4. Automatic
5. Stop
6. Manual
¢ö£ºSystem maintenance
1. Before or after opening the machine, keep the machine inside and outside clean, to make sure the machine normal movement.
2. In the morning and afternoon, check all screw of the machine, sure no loose, if find, tightening it with tool.
3. Keep other products away from the machine, to avoid stop the machine move.
4. Out of work time, turn off the power to avoid other trouble.