CERTIFICATES

CONTACT US

Email:jackdu999@yahoo.com

Tel:+8675586718316
Phone:+86-15811882441
Round Paper Cans Jars Labeling Hot Melt Adhesive Labeling Machine with Automatic Arranging Feeding System Hotmelt Labels Applicator for Carton Pipes
Model YX-GL02
Paper tube feeding method automatic/ Manual loader
Paper tube discharging method automatic discharger
Glue cleaning method no need to clean
Paper tube diameter Φ25mm-Φ130mm(automatic tube in );Φ25-Φ150(manual tube in )
Label length 75mm-420mm
Label thickness 75-128g /75-157g per square meter
Paper tube thickness 0.8-15mm
Labeling precision less than 1.0mm
Production efficiency 25-28pieces/min
Air consumption 0.4Mpa
Rated power 3.1KW
Voltage Three phase 380V/220V Single phase
Dimension 1760X760X1400MM
Weight 400KG

Description
It's one of hot melt labeling machine, be used on labeling on plastic bottle, glasses bottle, paper can, metal can and othe round pack. Can paste just on head and tail and or full of the back of labels. It Can use with several produce assembly line.
The adhesiver used for the machine to label the product with the labels is the hot melt one which is total different with the common non-dry sticker kind.
The Hot melt adhesive (HMA), also known as hot glue, is a form of thermoplastic adhesive that is commonly supplied in solid cylindrical sticks of various diameters, designed to be melted in an electric hot glue gun. The gun uses a continuous-duty heating element to melt the plastic glue, which the user pushes through the gun either with a mechanical trigger mechanism on the gun, or with direct finger pressure. The glue squeezed out of the heated nozzle is initially hot enough to burn and even blister skin. The glue is tacky when hot, and solidifies in a few seconds to one minute. Hot melt adhesives can also be applied by dipping or spraying.
In industrial use, hot melt adhesives provide several advantages over solvent-based adhesives. Volatile organic compounds are reduced or eliminated, and the drying or curing step is eliminated. Hot melt adhesives have long shelf life and usually can be disposed of without special precautions. Some of the disadvantages involve thermal load of the substrate, limiting use to substrates not sensitive to higher temperatures, and loss of bond strength at higher temperatures, up to complete melting of the adhesive. This can be reduced by using a reactive adhesive that after solidifying undergoes further curing e.g., by moisture (e.g., reactive urethanes and silicones), or is cured by ultraviolet radiation. Some HMAs may not be resistant to chemical attacks and weathering. HMAs do not lose thickness during solidifying; solvent-based adhesives may lose up to 50-70% of layer thickness during drying
General adhesive properties
Open time: the working time to make a bond, where the surface still retains sufficient tack, can range from seconds for fast-setting HMAs to infinity for pressure-sensitive adhesives
Set time: time to form a bond of acceptable strength
Tack: the degree of surface stickiness of the adhesive; influences the strength of the bond between wetted surfaces.
Surface energy: which influences wetting of different kind of surfaces.
Application of labeling machine hot melt glue labeller model YX-GL02:
This fully auto hot melt adhesive stickers labeling machine is widely used in paper can,tin can,iron can,paper tube,cone stick,package tube,industrial tube,tea package tube,red wine tube,,Chemical fiber tube,Calendar tube etc. kinds of paper tubes.
Workflow of hot melt labeling machine automatic model YX-GL02:
Put paper cans inside machine, optoelectronic switch detects paper
cans, clutch label-rubbing wheel starts to actuate for 15-80 , then comes off
automatically to convey label papers to label-conveying roller, label papers
are driven by label-conveying roller to continue moving forward, realizing
automatic gluing and paper cans labeling. Note: Because of the different
size of paper can, detection distance of optoelectronic switch needs to be
reasonably adjusted. The distance between optoelectronic head and paper
can is approximately 4cm.
Product Feature for hot melt glue labeling machine Model YX-GL02
►It is easy to change different cans and labels which only needs adjusting the tubes hopper and tubes position and changing the parameter in the HMP touch screen. The hotmelt glue labeling machine is equipped with the PLC controlling system.
►The optical sensor will automatically detect the paper cans when the paper cans are put down on the materials hopper. It takes one second to finish the labels feeding/ gluing/labeling and dropping of final labelled cans.
►It actualizes the intelligent operation by adopting the PLC controlling system whose system reaction speed runs twice than the normal electric circuit system; The machine functions with pre-heating setting and overload protection against the overheating as well as parameter memory.
►The thickness of hotmelt glue can be randomly adjusted from 0.05mm to 0.1mm.It is adapted with the foreign materials filter system to stop the paper cans scraps to fall into the glue during labeling,it therefore saves the consumption of hotmelt glue.
►The materials of three-rollers system is made from the fine high temperature resistant silicons; Even the large-diameter round thinc cans can be labelled stablly in a good station.
►The temperature-controlling module is embedded in the PLC system which can keep the hot melt glue at a certain temperature. The embedded module makes the temperature indifference stay at 0.1degree saving a lot power.
► There is no need manually taking out the final paper tubes;That is mean: When the paper can is labelled they are dropped out automatically.
►The patent-design hotmelt coating setting is characteristic with steady gluing and fast cooling within 0.3s.It never happens on the cases like opening or crevice on the head of label.The labeling effect is clean and tidy.
►The Bearing brand is NSK imported from Japan and the paper label feeding clutch adapts Japan brand Mikipulley which improves the label-feeding precision and duration;
Specifications of model YX-GL02 Hot melt pipes labeling machine with pipes arranging feeding automated system:
Model YX-GL02
Paper tube feeding method automatic/ Manual loader
Paper tube discharging method automatic discharger
Glue cleaning method no need to clean
Paper tube diameter Φ25mm-Φ130mm(automatic tube in );Φ25-Φ150(manual tube in )
Label length 75mm-420mm
Label thickness 75-128g /75-157g per square meter
Paper tube thickness 0.8-15mm
Labeling precision less than 1.0mm
Production efficiency 25-28pieces/min
Air consumption 0.4Mpa
Rated power 3.1KW
Voltage Three phase 380V/220V Single phase
Dimension 1760X760X1400MM
Weight 400KG
Mark: Roller is cladded by PU, compared with the common roller which is cladded by rubber, has better heat-resistance and is beneficial to keep balance.
Machine can be equipped with automatic paper cans arranging system by which the cans put in a mess can be fed

out one by one for labeling station; The working video is illustrated as below:
Configuration of hot melt glue labeling machine with automated pipes arranging system:
| | | | | | |
| --- | --- | --- | --- | --- | --- |
| Electrical equipment | Quty | Brand/remark | Electrical equipment | Quty. | Brand/remark |
| Speed adjustment motor | 1set | Wanshsin/OPG/JSCC | PLC | 1set | Delta |
| Life and fall down motor | 1set | Wanshsin/OPG/JSCC | EUT electric eye | 1set | OMRON |
| Label electric eye | 1set | OMRON | Screen | 1set | Delta |
Samples labeling from paper carton labeler equipment model YX-GL02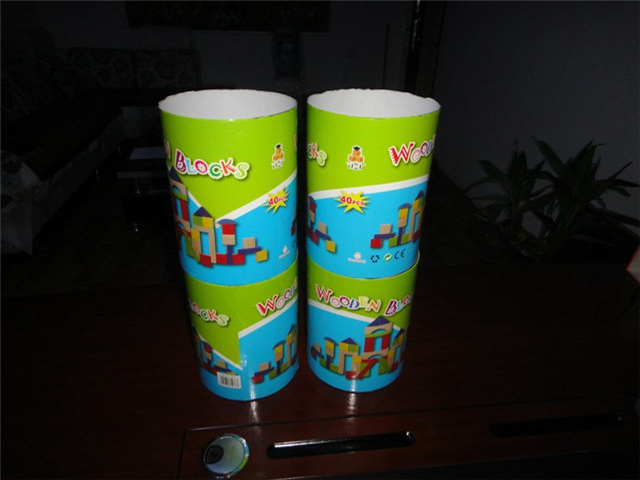 Wooden case packaging before ocean shipping for glue labeling machines
After-sale service for YX series labeling machines:
Guarantee: for all the machine, it claims one year for guarantee.(Excluded from the warranty are problems due to accidents, misuse , misapplication, storage damage, negligence, or modification to the Equipment or its components. ALSO THE EASY BROKEN SPARE PART IS NOT INCLUDED IN THE GUARANTEE)
Installation: after the machine arrive your factory,if you need,our technician will go to your place to install and test the machine and also training your worker to operating the machine (The time of train depend on you worker). The expenses (air ticket ,food , hotel,the travelling fee on your country) should be on your account and you need paid for the technician USD50 per day. also you can go to our factory to do training.
After-sales service: If you get the problem on the machine ,our technician will go to your place to fixed the machine as soon as possible. The cost should be in your account.(as above).