CERTIFICATES

CONTACT US

Email:jackdu999@yahoo.com

Tel:+8675586718316
Phone:+86-15811882441
E-Cigarette Extract Oil Bottling Filling Capping Integrated with Horizontal Labelling Machine Rotary Liquid 2Heads Filler Equipment
Model YX-50G Cigar oil bottling line
Filling head: 2pcs
Capping Head 2pcs
Filling way:Peristaltic pump
Filling volume:3ml-60ml
Overall size:About 4100mm*2700mm*1800mm
Weight About 750kg
Working voltage AC110-220V 50Hz-60Hz
Working air pressure 4-7kgf/cm²
Working speed 20-25pcs/minute
Filling precision ±95%
Labeling precision±0.5-±1mm


Description
The automatic small bottle filling and capping machine is specially designed for small bottles and suitable for filling liquid like eye drops, electronic cigarette, iodine etc.
Drawing&Working process:

30ml 、10ml:Vibration plate drop bottle (two bottles of each make a vibration plate, a single discharge) - Double peristaltic pump filling - Vibration plate double on the cover (a vibration plate double out, a material of a vibration plate requires two vibration Plate) - Double locking cap - Vertical transition to lying roller - Horizontal roller labeling machine - Complete.
Vibration plate: two bottles, cover the size of different specifications need to be set for each material a vibration plate, a total of 4 vibration plate (two bottles of each one, two cover each one) corresponding replacement operation;
Host tray: for two products (10ml, 30ml), according to the replacement material on the corresponding mold to achieve;
It works automatically with high speed, adopts metering filling by peristaltic pump, controlled by PLC, no bottle no filling and capping. With high position accuracy, smooth transmission, and easy operation.
(bottle feeding machine-liquid filling machine/spout pressing/outer capping 3in1 machine-labeling machine-package table, and so on)
This machine has three functions,liquid filling, spout putting and pressing, outer cover capping 3in1 machine. Also may according to the customer request to capping outside lid. No bottle, no filling. This machine is simple operation, saving merits of human, not consumption field, etc. It can be equipped with a protecting cover and a checking-drop installation according to client's requirement.
It is applicable to different-shaped bottles and plastic bottles: PP , PE , PVC ,glass bottle and mould bottle The bottle-in and bottle-out has specialized structure .It doesn't drop bottles or nip bottles
PLC control , simple and easy to operate.
The part which touches the liquid medicine is made of 316L stainless material completely, meeting the requirement of GMP.
It can be connected with the bottle-washing machine and the label-attaching machine to form a complete set of produce line.
Feature on E liquid filling line:
1. Microcomputer setting, high filling accuracy
2. The main engine is equipped with stepless frequency speed control.
3. Automatic production capacity quantitative control.
4. With all kinds of fault alerting, for low pressure, no filling, no inner cap etc.
5. The machine can stop automatically in case of no filling, no inner cap etc.
Basic specificaiton of model YX-50G filling capping machine:
Model YX-50G Cigar oil bottling line
Filling head: 2pcs
Capping Head 2pcs
Filling way:Peristaltic pump
Filling volume:3ml-60ml
Overall size:About 4100mm*2700mm*1800mm
Weight About 750kg
Working voltage AC110-220V 50Hz-60Hz
Working air pressure 4-7kgf/cm²
Working speed 20-25pcs/minute
Filling precision ±95%
Labeling Parameter model YX-BS series
► Label width: 10-135mm;
► Labeling speed: 30-350bottles/Min;
►production diameter: 15-150mm;
►label height: 15-180mm;
►Labeling precision±0.5-±1mm
►Power supply: 4200W , 110V/220V , 50/60HZ;
►Machine size: L2880 * W1700 *H1580 mm;
► Reel Inner diameter: 75mm;
► Reel outer diameter: Max 360mm
Sample picture:
Wooden case packaging for Cigar oil filling capping horizontal labeling machine: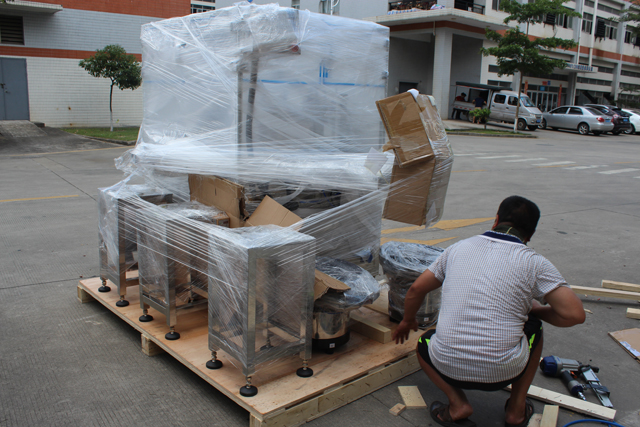 Plant&workshop
For automatic small bottle filling and capping machine for electronic cigarette question:
First of all, before we operate automatic small bottle filling and capping machine , to clearly understand the instructions clearly automatic small bottle filling and capping machine, first read through the instructions again, adjust and use the familiar automatic small bottle filling and capping machine, the operating time must be in strict accordance with the instructions to automatic small bottle filling and capping machine instructions, pay attention to details of the problem , certainly the details determine success or failure .
Secondly, in accordance with the instructions on the machine for regular repair and maintenance of the automatic small bottle filling and capping machine fuselage Oil it, so automatic small bottle filling and capping machine body as far as possible to protect the reservoir, so that the air can be isolated to avoid automatic small bottle filling and capping machine rusty, well protected automatic small bottle filling and capping machine body, and this is a way to extend the life of the 3 in1 filling machine.
Once again, we have to pay attention to hot stand-sealing cloth for cleaning, not retained foreign body in the above, to ensure clean small bottle filling and capping machine try to avoid the amount of material for a long time into the mouth of the left cause corrosion .
Fourth, we should always check the machine to see contacts at various parts of the machine is good, important to ensure safe use of electricity, no electricity properly to prevent harm .
Fifth, if found faulty , we have to turn off the power , when necessary, by pressing the emergency stop button , and then deflated lift cover, and then close the voltage , check the reason , and troubleshooting.
®ALL RIGHTS RESERVED BY PENGLAI INDUSTRIAL CORPORATION LIMITED