CERTIFICATES

CONTACT US

Email:jackdu999@yahoo.com

Tel:+8675586718316
Phone:+86-15811882441
Egypt North African customer for salt packing machinery automatic VFFS large bags bagging line
Published by: PENGLAI INDUSTRIAL CORPORATION
Date:2016-01-22 10:25:06
Our egypt customer from Cairo recenly places another order for our model YX-500 salt packing machine after they purchased our machine at the beginning of 2015;They give us highly phraise
on the quality of PENGLAI packaging machinery;
About one year ago,after finishing manufacturing of our Egyptian buyer's order on packaging machinery
we tested the packing machine for salt model YX-500 which includes conveyor belt&bag formers&tools boxes and final conveyor belt .The machine looks very elegant in appearance
in fully stainless steel structure for not only the main body of packing machine but also the Zigzag type feeding system . The packing machine requires the air compressor,whose basic
parameter is at least 1cubic meters air consumption with power 7Horse power ; We are plan to ship to goods to Alexander port these two days because the machine video in testing has already
won the approval from our North African customer.
As below there is the basic information for this mutual benefited cooperation:
Samples sent for testing machines from our Egypt customer:
PO issued from customer for salt packaging machine 100grams to 1000grams
Payment proof for salt packing machine model YX-500
Video testing run operation instruction on model YX-500 SALT bagging equipment:
Bags packing samples from model YX-500 packaging system:
Certificate of Stainless steel &Electronic brand Manu
Wooden case packing of granules salt packaging equioment model YX-500:
Docs for clearing custom in Customer's port:
Hereinwith the basic information for model YX-500 granules packing machines :
This machine packing large bags for granules model YX-500 is a large, vertical, three sides sealing, pillow shaped bags, intermittent packaging machine. Can be completed automatically bag making, measuring, filling, sealing, cutting, counting, lot number printing process.
The measurement of volumetric method, for particles smaller than 80 objective granular material of big bag packing. All parts in contact with the device are made of stainless steel and non-toxic wear-resistant plastic, to meet the requirements of the food and pharmaceutical packaging.
Suitable for packaging of granular material that is easy flowing or good flow properties, such as monosodium glutamate, solid beverage, sugar, glucose, feed, medicine, solid Coffee etc..
Packing speed can be within the rated range step less speed regulation.
The bag length adjustment: microcomputer using coaxial photoelectric coding control, set the bag length by microcomputer, with the bag length accurately, convenient adjustment, maintenance simple, reliable work.
Heat sealing dual temperature control: temperature by intelligent temperature controller can be set in advance, accurate temperature control, suitable for various packing materials, good heat balance to ensure the sealing quality.
Photoelectric automatic positioning system: using optical positioning technology unique, for printed color packaging materials, can guarantee the integrity of the pattern making.
Filling quantity of step less adjustment: the coaxial photoelectric coding, by using the microcomputer control to realize step less adjustment within the rated range. Has the advantages of simple structure, accurate control, stable and reliable.
Metering device:
Rotary cup type metering &different measuring way for different granules&powder
Features of model YX-500 salt packaging machine VFFS:
1. Equipped with safety protection, comply with firms safety management requirements.
2. The packing machine use PLC control with stable, reliable biaxial high accuracy output and color touch screen, bag-making, measuring, filling, printing, cutting, finished in one operation.
3. PLC Control with touch panel step by Step Instruction.
4. Pulling belt film draw down system is controlled by servo motor, high precision orientation, size more nicety.
5. Stainless steel 304 contact parts.
6. External film releasing mechanism: simpler and easier installation of packing film.
7. Adjustment of bag deviation just needed to be control the touch screen. Operation is very simple.
8. Close down type mechanism, defending powder into inside of machine.
9. Make pillow bags and hanging bags in terms of customers different requirements.
10. It can finished all processes bag forming, bag sealing, packaging, date printing automatically.
Technical parameters of vertical packing machine VFFS Packaging equipment
| | |
| --- | --- |
| Model | YX-500 Vertical Form-Fill-Seal Machine |
| Packing speed | Max 50bags/min |
| Bag-making size | (L)80-350mm (W)80-250mm |
| Film material | BOPP/CPP, BOPP/VMCPP, BOPP/PE, PET/VMPET/PE, PET/AL/PE, NY/PE, PET/PE etc. |
| Filling range | Max 2000ml |
| Max packing film width | 520mm |
| Film thickness | 0.04-0.08mm |
| Air consumption | 0.8Mpa 0.40m3/min |
| Total power/ voltage | 3KW/220V 50-60HZ |
| Outside size | (L)1430x(W)1200x(H)1700mm |
| Gross weight | 680Kg |
| Feeding Hopper | 50Liter |
Configuration for packing machines vertical large bag packaging model YX-500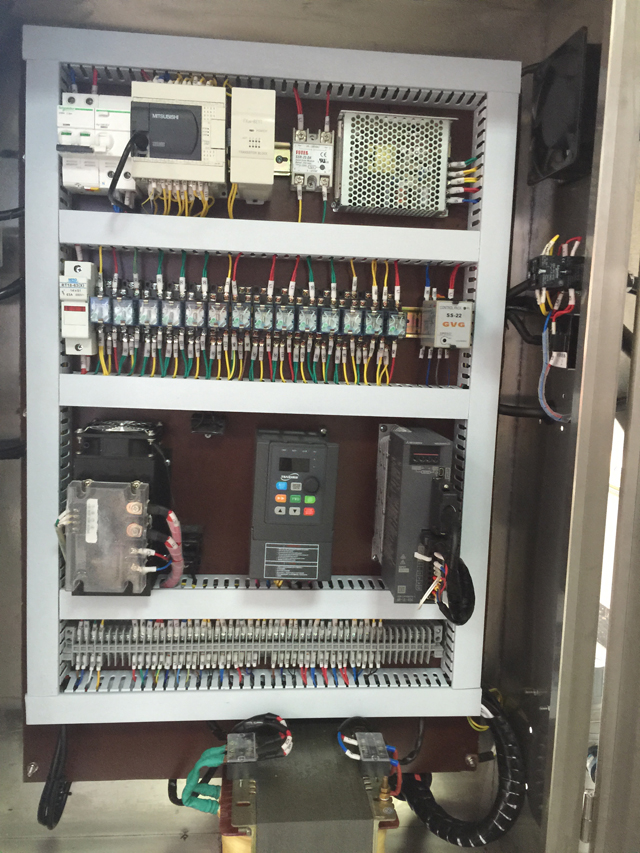 Sequence NO.


Name of fitting

Country of origin

Brand

1

Touch screen

Taiwan

WEINVIEW

2

PLC

Japan

Mitsubishi

3

Servo motor including drive

Japan

Panasonic

4

Color standard sensor

Electronic eye

China

Autonics

5

Temperature control meter

China

Yudian

6

Horizontal sealing cylinder

Taiwan

Airtac

7

Vertical sealing with guide bar cylinder

Taiwan

Airtac

8

Cutter thin cylinder

Taiwan

Airtac

9

Push film cylinder

Taiwan

Airtac

10

Two couplet

Taiwan

Airtac

11

Value with gauge

Taiwan

Airtac

12

Electromagnetic valve with disc

Taiwan

MINDMAN

13

Inflatable solenoid valves

Taiwan

MINDMAN

14

Printer

China

XIAMEN TANE

15

Solid state relays

TAI WAN

Schneider

16

Among the relay

Japan

IDEC

17

Switching power supply

Taiwan

YANGJI

18

Stop switch

Japan

IDEC
Spare parts for packing machines model YX-500
Bag formers from vertical packing machine
Conveyor belt for outputing final product
Cups for loading materials through Z-type elevator
Stainless steel materials loading hopper for packing machine granules packaging equipment

Feeding hopper from the main body of packing machine VFFS
Sealing way for different requirement Bags sealing type
Final products from the materials and VFFS packaging machinery YX series PENGLAI brand
► Equipment maintenance
1.Before on or off duty, it is necessary to clean interior and exterior of the machine, thoroughly sterilize the parts passed by food
2.Before on or off duty every day, please check if 1/3 of the oil table of air source air source triplet oil storage jar is maintained, is less, it is necessary to pour 20# pure and clean oil until about 1/2 of the jar body.
3.Before start every day, pour 20# machine oil into oil cup on the horizontal sealing support until it becomes full.
4.Before off duty, it is necessary to take off unused packing film so as to prevent from bending supporting tube.
5.During the process of start, if material is clamped in vertical sealing or horizontal sealing, it is necessary to stop the machine immediately and clean tooth surface of vertical sealing or horizontal sealing with brass wire brush.
►Omron electronic manual for operation&working principle in Wire
►Pneumatic schematic diagram 1 Circuit diagram of automatic packing machine
L-----phase wire
N-----zero wire
QS-----main switch
QFO-----air switch
QF1-----breaker
QF2-----breaker
QF3-----breaker
220VAC/24VDC-----on-off power source
SGDL-02AR-----servo controller
BFV7002FBR-----transducer
solid-state relay
solid-state relay
solid-state relay
paper-placing photoelectric switch
vertical sealing and horizontal sealing temperature control switch
B1----- print heating element
R1-----200W/50VAC horizontal sealing heating element
R2-----200W/50VAC horizontal sealing heating element
R3----- 200W/50VAC horizontal sealing heating element
R4-----200W/50VAC horizontal sealing heating element
R5-----160W/50VAC horizontal sealing heating element
R6-----530W/170VAC horizontal sealing heating element
J5-----relay contact
M1-----main motor
M2-----film conveyance motor
M3-----brush motor
M4-----film placing motor
C1-----capacitance
C2-----capacitance
BT1-----horizontal sealing temperature controller
BT2-----vertical sealing temperature controller
BT3-----print temperature controller
1.socket
2.test table
►Pneumatic schematic diagram 2
sketch map of PLG junction terminal
X0—photoelectric table transducer input
X1—color code transducer input
X2—stop
X3—low temperature alarm input
X4-----carbon belt transducer alarm input
X5-----packing film transducer alarm input
X6------material transducer alarm input
X7------cutter transducer input
YO------servo motor 2-foot output
Y1------inflation output
Y2------vertical sealing output
Y3------horizontal sealing output
Y5------transducer output
Y6------cutter output
Y7------package output
JK1------photoelectric table transducer
JK2------color code transducer
JK4------cutter transducer
JK5------carbon belt transducer
K2------film conveyance cylinder jogging switch
SB------emergency stop switch
B1------cutter electromagnetic valve
B2------vertical sealing electromagnetic valve
B3------horizontal sealing electromagnetic valve
B4------film conveyance electromagnetic valve
B5------inflation electromagnetic valve
J2------relay
J3------relay
J4------relay
J5------relay
J6------relay
J7------relay
installation in case of package bag device J7
green
white
orange
black
► air passage diagram for model YX-500 granules packing machine
1.air source
2.air source triplet
3.2-position 5-way electromagnetic valve
4.horizontal sealing cylinder
5.date printing cylinder
6.vertical sealing cylinder
7.cutter cylinder
8.film conveyance cylinder
9.pressure reducing valve
10.inflation
►listing of spare parts with the machine
horizontal sealing heating sheet ---- 4 pieces
vertical sealing heating sheet(wide) – 1 piece
vertical sealing heating sheet(narrow) – 1 piece
interior hexangular spanner 4-10mm 1 set
film conveyance synchronous belt 560mm 1 piece
copper brush 120mm 1 piece
cutter blade 220mm 1 piece
oil kettle 150ml 1 piece
character grain 1 box
date coding manual 1 copy
temperature control manual 1 sheet