CERTIFICATES

CONTACT US

Email:jackdu999@yahoo.com

Tel:+8675586718316
Phone:+86-15811882441
Ecuador customer bought blister packing machine and roll films large QTY for hotel shampoo
Published by: PENGLAI INDUSTRIAL CORPORATION
Date:2023-08-25 18:09:58
Our Regular customers from Ecuador (South American continent) placed another order on one(*) pc of machine: Blister filling sealing machine YX-DPT80A-02 2 Lanes, speed: around 1400-1800pcs/hour
For all the machines purchased it is clear to confirm all the information on the products so we often ask our customers to freight the samples to test and commission the machines in order that the machines and customer's products gains the best compatibility and adaptability.
After getting the confirmation &samples of the product in sizes and drawing for manufacturing the blister packing machines
we spent only 20 working days finishing everything and made the machines ready after testing them in a satisfactory feedback.
Recently our customers sent us the positive commentar on the machines which keep running very well in their factory ever since the machines arrived their factory.
The machines was shipped via Fedex courier to MITAD DEL MUNDO. INGRESO SÉPTIMA TRANSVERSAL - VÍA CALACALÍ--QUITO SAN ANTONIO. The documentaries certificated with ISO&CO&CE together with other files necessory are sent via DHL to customer for assisting customers to clear the custom.

As below there listed the basic information on the successful transaction between PENGLAI and their Ecuador counterpart:

Purchased order issued &Key communiction points During Business Discussion:


Samples sent from customers in South America


Bank copy of Down&balance payment for purchasing Automatic blister pack
Testing videos on liquid blister packing machine model YX-80A-02:

Wooden case packing of liquid blister packing machine model YX-80A-02.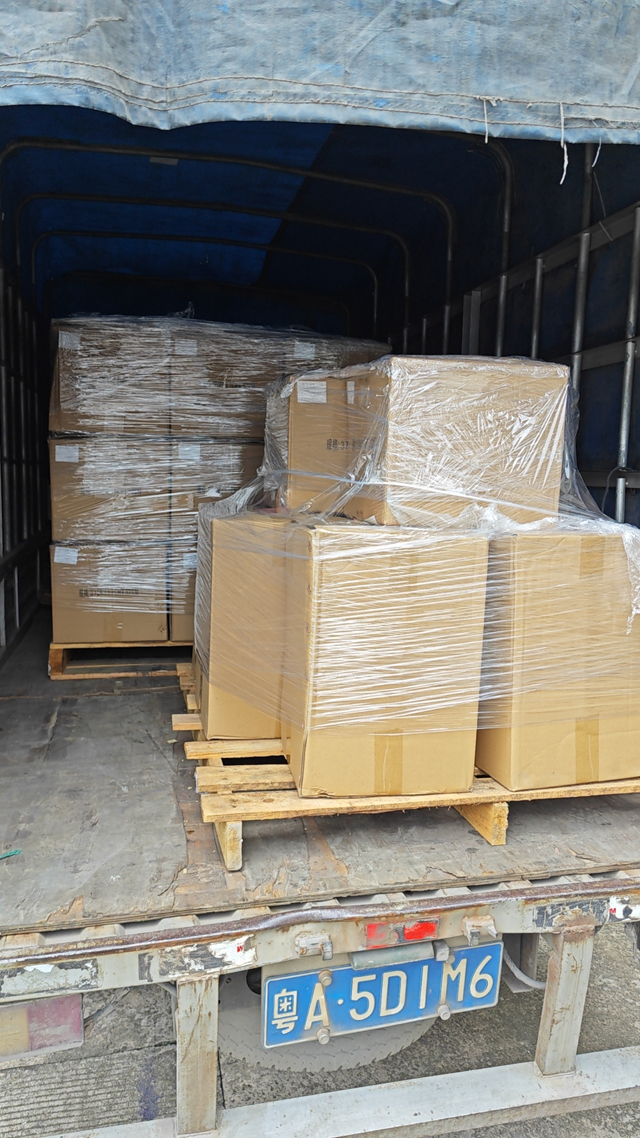 As follow there given the description on the machines purchased respectively
Liquid Blister Packing Machine is the latest product designed specially for middle and small sized pharmacy factory, preparation room of hospital, health care factory. It is adopted with micro-computer, touch panel operation, frequency speed regulation, adjustable stroke, convenience of operation, firm structure, well function; it is the ideal packaging equipment. It has passed Province technology production authentication.
FEATURES on blister liquid packing machine :

1. The distance can be adjusted freely in the same flat surface for forming, heat-sealing, perforation, punching parts etc. It is suitable for various sizes of foodstuff packaging, and it has high precision and good Suitability.
2. Adjustable stroke, automatic feeding, register heating, positive pressure forming, up and down net web, cylinder heat-sealing, printing batch number with automatic perforation, mechanic dragging, easy operation, stable running.
3. It is adopted with imported gear reducer with lower noise and long life.
4. Correct location of die pressure plate, convenience of replacement.
5. Combination mechanism, convenient to assemble and disassemble,easy maintenance. (The body can be manufactured separately in order to easily transport the machine into workshop)
6. Equipped with temperature reserve chocolate feeder, it can ensure the chocolate charged smoothly, freely and accurately.
Notes: 1. It can be added register sealing device with cursor trace.
Main Technical Parameters (Liquid Blister Packing Machine):
| | |
| --- | --- |
| Model Number | YX-80A-02 |
| Cutting Frequency (Times/min) | 6-20 |
| Max. Forming area and depth (mm) | 140*110*14 |
| Stroke (mm) | 40-120 (can be designed as customers requirements) |
| Standard Plate(mm) | 80*57 (can be designed as customers requirements) |
| Air Pressure(Mpa) | 0.4-0.6 |
| Air supply | ≥0.2 m³/min |
| Total Power | 380V/220V 50Hz 3.6kw |
| Main Motor Power (kw) | 1.1 |
| PVC Hard Pieces(mm) | 0.150.5*140 |
| PTP Aluminum Foil(mm) | 0.02-0.035*140 |
| Dialysis Paper(mm) | 50-100g*140 |
| Mould Cooling | tap water or recycling water |
| Overall Dimensions(mm) | 2300*560*1410(L*W*H) |
| Weight (kg) | 600 |
Working process:

PVC roll—­­—PVC heating——PVC forming —— Automatic cooling —— Automatic liquid feeding —— PE/ALU foil/paper card sealing —— Printing batch —— Cutting —— Products output
Blister packing samples for oil&perfume&honey
Production line for liquid blister forming filling sealing machine model YX-70A-02
ALL RIGHTS RESERVED by ®PENGLAI INDUSTRIAL CORPORATION LIMITED