CERTIFICATES

CONTACT US

Email:jackdu999@yahoo.com

Tel:+8675586718316
Phone:+86-15811882441
Ecuador customers bought single head rotary vacuum capping machine glass jars labeler line
Published by: PENGLAI INDUSTRIAL CORPORATION
Date:2022-12-28 11:38:58
Our customers from Ecuador(South America) placed the order on two(2*) pcs of machines: one is rotary vacuum capping machine model YX-RC3050; the other Double sided labeling machine model YX-650A.
For all the machines purchased it is clear to confirm all the information on the products so we often ask our customers to freight the samples to test and commission the machines in order that the machines and customer's products gains the best compatibility and adaptability.
After getting the confirmation &samples of the product in sizes and drawing for manufacturing the capping labeling machines
we spent only 7 working days finishing everything and made the machines ready after testing them in a satisfactory feedback.
Recently our customers sent us the positive commentar on the machines which keep running very well in their factory ever since the machines arrived their factory.
The machines was shipped via Fedex courier to Consacola Alto s/n vía nueva a Cuenca, Km1. The documentaries certificated with ISO&CO&CE together with other files necessory are sent via DHL to customer for assisting customers to clear the custom.

As below there listed the basic information on the successful transaction between PENGLAI and their Ecuador counterpart:

Purchased order issued &Key communiction points During Business Discussion:


Samples sent from customers in South America


Bank copy of Down&balance payment for purchasing automatic vacuum capping and jars labeling machines:


Testing videos on fully automatic jars vacuum capping and double sided labeling machine


Wooden case packing of automatic capping labeling machines.


As follow there given the description on the machines purchased respectively
YX-RC3050 automatic glass jars vacuum capping machine with cap placer caps feeding system for automatic vacuum screw capper
The machine is widely used for full-automatic vacuum screwing cap in foods & beverage ,spice,medicine ,chemicals, industries and so on.
1.The machine is combined with automatic cap arranging, covering and vacuum screwing, features fast speed, high efficiency, reliable and stable running.
2.Photosensor and approximate switch and other elements are using international famous brand, to make sure that the cap unscrambler machine can control automatic no caps the switch is on, full caps the switch is off.
3.the bottle shape what the machine can apply is round shape, square shape, oval shape and special-shaped and so on.
4.Doesn't require to replace parts for filling different shapes of bottles with easy adjustment, strong adaptability.
5.The electric parts and pneumatic parts are used world-renowned brands, the advantage is low failure rate,reliable performance and long service life. parts.
5).The main pneumatic and electric parts are from world famous brands to ensure stable, reliable and durable performance.
Main technical parameter of vacuum capper for glass jar
Power supply: AC220V/50-60Hz
Capping speed: 1200-1500bph
Power: ≤1.3KW (include vacuum pump)
Cap diameter: Φ30-Φ85mm ¡¢Φ85-Φ110mm
Bottle height: 50-180mm ¡¢120£­250mm
Bottle diameter: Φ30-Φ80mm Φ80-Φ150mm
Limiting vacuum degree: -0.08Mpa
Capping torsion: 5-25N.M
Air consumption: 0.5m3/0.7Mpa
Jars applicable for the rotary capping machine:
¢ò.Delivery Time£º

In apx. 30 work days after a validate contract delivery in Guangzhou.
The double side automatic labeling machine is suitable for round bottles or flat bottles with double mark or single mark . The shape belt can be inclined, and the labeling head can be adjusted at eight orientations, so the machine can be adjusted successfully in several minutes for any bottle.
The drawing of automatic double sided labeling machine for flat bottles :
The pressure between the active axle and press roller can be adjusted , so the running direction of the lanel can be adjusted freely, The label is only pressed flexibly without causing any distortion . The labeling head adopts the structure of the double press rollersl, it guarantees that the label is pulled tightly but not broken because of the underneath paper die-cutting , the separated clutch makes the strain more balanced.
The touch screen based human interface in Russian and English with one online helping system makes it easy for operate the machine. The press belt is feared into the main transporting line , so it makes the two transporting lines work in synchronous absolutely.
The machine is supplied with the famous sever motor ,so it realizes real closed loop controlling and it avoids the phenomenon of "the blind man walk" when supplied with the stepper motor.
The multi channel encoder detects labeling position precisely at high speed.
The label is pressed by a flap after appying on bottle and pressed by the active and passive sponge rollers.so when the label is stuck it has not any bladder,
It is especially applicable to the crystal bottles labled with transparent labels. The optional air driving and roller labeling set can label round bottles precisely.
Basic parameters of bottle labeling YX-650A automatic double sided labeller equipment for flat&round bottles: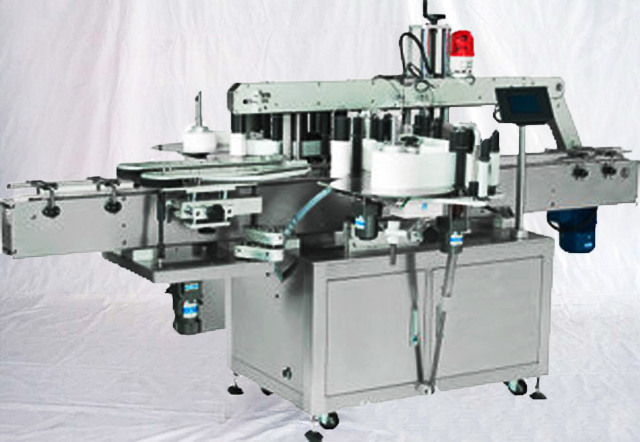 Model YX-650A
¡öVoltage Specification: AC220V/380V, 50/60HZ Single-phase
¡ö Power: 2.2KW/220V(US power standard adjustable)
¡ö Labeling Speed: 40-50pcs/min.
¡ö Labeling Precision: ±1 mm (errors of labeled objects and labels exclusive)
¡ö Air Source for labeling: 5kg/cm2
¡ö Applicable Vessel Range: 15-150mm in length, 10-100mm in diameter, 40-350mm in height
¡ö Applicable Label: 15-180mm in height, 10-200mm in length.
¡ö Max Label: 420mm in diameter, 76mm in inner diameter of paper roll.
¡ö Label Gap: 3-4mm
¡ö Gap between upper and lower sides of label and upper and lower sides of backing paper: 2mm
Electronic components with brand&configuration of double sided labeling machinery model YX-650A
| | | | |
| --- | --- | --- | --- |
| Item | Name | Brand | Quantity |
| 1 | PLC | MITSUBISHI | 1 |
| 2 | Frequency changer | DANFOSS | 1 |
| 3 | Touch screen | WEINVIEW | 1 |
| 4 | Servo labeling motor | DELTA | 2 |
| 5 | Servo labeling motor drives | DELTA | 2 |
| 6 | Conveyor motor | DWG | 1 |
| 7 | Conveyor belt motor gear box | DWG | 1 |
| 8 | Separating bottle motor | GPG | 2 |
| 9 | Separating bottle motor gear box | GPG | 2 |
| 10 | Electric eye for checking bottles | OMRON | 1 |
| 11 | Optical | OMRON | 1 |
| 12 | Label detection electric eye | LEUZE | 2 |
| 13 | Label stock electric eye | OMRON | 2 |
Application of labeling machines for bottles&non sticker labels :
Wooden case packing for labeling machine shipping:
III¡¢. After Service£º
Installation: Our Company will fix and test the machine well enough before delivery and your company can use the machine directly in your factory without any more adjustments. At the same time, your company operators can go to our factory and our technicians will teach them how to install, operate and maintain the machine. If you need our technicians to do fixing, testing or servicing abroad, you need to do with correlative charges.
u Our machine is guaranteed for one year in which we will supply you with spare parts and services free of charge, man-made damage as well as the delivery cost of the spare parts excluded. When you have problems in process, please feel free to contact our technicians.

the working principle of vacuum capping machine


The vacuum capping machine is mainly used for capping various glass bottles and round bottles. How much do you know about the working principle and the machine model?

There are three main types of vacuum capping machines, including semi-sealed vacuum capping machine, fully sealed vacuum capping machine and steam jet vacuum capping machine. The working principle of each model is different. First, let's talk about the semi-hermetic vacuum capping machine. It uses the sealing ring on the top of the machine to drop and press the bottle shoulder to form a vacuum chamber, because it forms part of the vacuum chamber. It is the bottle itself, so it is called a semi-sealed vacuum chamber. Then the fully sealed vacuum capping machine is different. This kind of functional vacuum capping machine has a structure that can completely form a vacuum chamber on the machine. When working, the bottle is completely in a fully vacuum environment. Then, screw the cap by vacuuming. The steam jet type vacuum capping machine, strictly speaking, it is not in a vacuum chamber, but uses a steam tunnel equivalent to exhaust box exhaust, and simultaneously realizes capping during a short exhaust process. This is the working principle of all vacuum capping machines, the purpose is to tighten the bottle caps so that the quality of the goods meets the standard.

The glass bottle vacuum capping machine, like the vacuum capping machine, has a wide range of uses. At present, beverages, beer and other items appearing on the market have become indispensable necessities in life. All kinds of glass bottled fresh foods that are exposed in life are vacuumized by our glass vacuum capping machine. Encapsulation achieved.

What follows is that it is more automated on the basis of the vacuum capping machine, and its functions are more powerful. In addition to achieving high production capacity in production, it saves more manpower and material resources for the enterprise. Enterprises create more and greater benefits. The working principle of the automatic vacuum capping machine is further optimized and modified based on the working principle of the vacuum capping machine.
ALL RIGHTS RESERVED by ®SHENZHEN PENGLAI INDUSTRIAL CORPORATION LIMITED