CERTIFICATES

CONTACT US

Email:jackdu999@yahoo.com

Tel:+8675586718316
Phone:+86-15811882441
French customer orders E-liquid filling plugging capping shrink labeling machines small bottles&cans
Published by: PENGLAI INDUSTRIAL CORPORATION
Date:2014-01-01 22:18:58
On the end of 2013 Dezember we finally got the samples from our customers Mr Shamrel in French who send us the samples of bottles caps inner pluggers,
according to which we can design and manufacture their machines filling stoppering capping shrink labeling machine .Due to our traditional spring festival (20 days holiday)
it is planed that the whole line will be finished till next month Mid-Feb.
Here is the samples from our customer:
Picture1: bottles caps and inner pluggers
Picture2: bottles caps and inner pluggers in bags
Picture3: Aerosol cans only for shrink sleeve labeling machine
Although these samples received by us there is not still enough for us to test the machine with the inner pluggers and caps (bottles are enough),as well the labels required for
the shrink sleeve labeling machinery. it should be sent another quantity of the caps and inner pluggers again.
see the videos for E liquid filling stopper capping shrink sleeve labeling machine for small bottles as below:

Below is the basic description of these machines production line one by one:
---
The Complete Line is Composed of Automatic Bottle Unscrambler、Automatic Filling stopper&capping machine、shrink sleeve Labeling Machine,the output is 30-50Bottles/min,PLC control .
Below are the machine for constituting the whole line one by one :
ⅠAutomatic Bottle Unscrambler is suitable for automatic arrangement and rank for all kinds of impact resistant containers(round and square bottle),it is mainly used in pharmaceutical,food and relevant industry.just for plastic bottles.
Characteristic:

1、The speed of the equipment is quick and steady,the qualified rate is high,Simple operation,easy to grasp.
2、Automatic stopping when bottles are full and。
3、automatic starting when bottles are lacked on the belt conveyor
Main Technical Parameters of bottle unscramblers:
Model YX-120 Remarks:This machine just for plastic bottles
Output 30-100 Bottles/min
Power 220V/50Hz
Power supply 0.15 kw
Dimension 1200*1000*1000mm
For Automatic Bottle Unscrambler
No. Name Brand
1 Press-button Schneider
2 Magnetic Contactor Schneider
3 Relay Omron
4 PLC Mitsubishi FX1S-10MT
5 Motor JSCC made in Germany
6 photoelectric switch Shanghai Hu Gong
11 Turntable Made by ourself
ⅡThis machine E-Liquid Filling&Capping Machine
is mainly available to fill small dose into various round and flat plastic or glass bottles with the range from 2--30ml.High precision cam provides a regular plate to position, cork and cap; and touch screen controls all action. No bottle no filling and no capping. The machine enjoys simple operation and also protects bottle caps.

Characteristic:
1、the mainframe running speed is frequency conversion.
2、the product quantity can be controlled.
3、Automatic stop function, if there is no bottles
4、No bottle , no filling
Main Technical Parameters of filling stopper capping machines:
Model YX-50G
Filling Volume 1-50ml
Output 30-50 Bottles/min YX-10G Model
Filling Precision less than ±1%
Power Supply 220V/50Hz According to customer
Capping Rate more than 99%
Stoppering rate more than 99%
Air Supply 1.3 m3/h 0.4-0.8Mpa
Power 2.0 kw
Weight 650 kg
Dimension 1800*1000*1500mm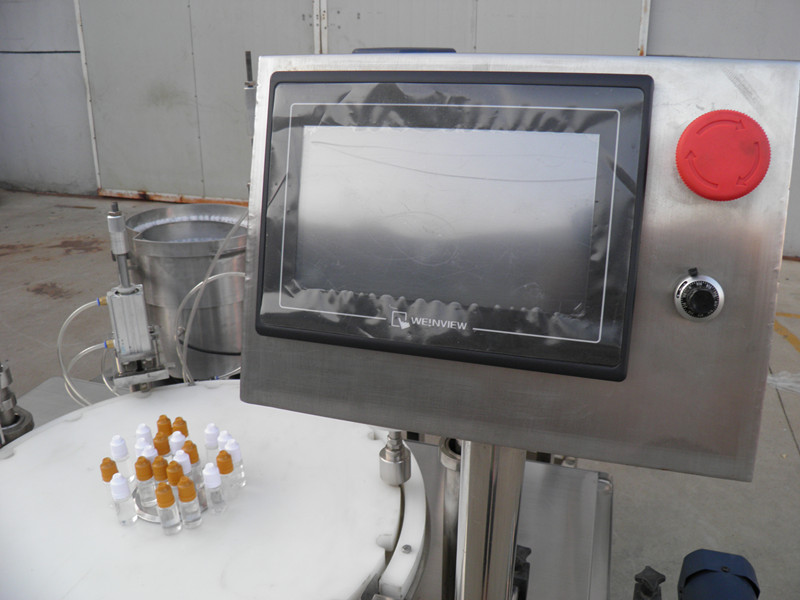 For E-Liquid Filling&Capping Machine
No. Name Brand
1 Press-button Schneider
2 Magnetic Contactor Schneider
3 Relay Omron
4 frequency transformer Mitsubishi
5 Motor JSCC made in Germany
6 Air cylinder SMC
7 solenoid valve Airtac
8 Cam Made in china
9 Speed reducer Made in Taiwan
10 Bearing NSK
11 PLC Mitisubishi Fx1s-30MT
12 Peristaltic pump Longer Sino US joint venture
13 Touchscreen WEINVIEW
14 photoelectric switch Shanghai Hu Gong
15 Fibre-optical Autonics
16 Switching Mode Power Supply NWELL
17 Step motor SNAYO made in japan
Automatic shrink sleeve labeling machine, with steam shrink tunnel,PVC,PET lable machine
1) Features;
a. Various bottle type;round, square and so on.
b. High precious location;save cost and correct.
c. Suitable for adjustment inside film range from 3′to 10′.
d. Man-machine conversation liquid crystal screen;easy operation
e. Magic Eye control feeding material, automatically.
f. PLC control system
g. High- speed sleeve film.(Temperature; from 100 to 600°C suitable for various film material
h. Screw transportation located system;Location for various shape bottles.
i. No need tool adjustment
1 Synchronized transmission, any change of transmission belt will be finished quickly. Compared to the type of traditional multilayer whose change and maintain need more than six hours, its maintenance is easy and
maintain is simple, so it doesn't influence production.
2 Unit cutter head plane design in China which apply to the container of 30mm—130mm.you never need to change
or debug it. It also has unique light touch human-machine screen, that means,auto search original location as well as safety and convenience which is aheadof other congener products.
3 Single shrinking label feed plane ,reasonably height which is convenient to fix the label; micro-computer auto figure which avoid enactment and adjustment .you only need to press it lightly ,the label will detect and locate automatially.The change of label is quick and convinent,besides,the cut place is absolutely exact .
4 Label feeding equipment;driving synchronized tensility control the supply of label ,the supply ability is 90meters per minite,volume
label supply plane is 500mm,the internal diameter of paper tube will be 4' ,8',10' .the configuration of label feeding is
stable tensility which enable the exact length of label and the stable ,quick supply of label.
5 The center pillar applies step by step shoot label structure and the speed is 150B per minute.
6 The newly designed cutter head use step by step motor driving which speed is high, action is exact, the cut is in order and the shrinking is beautiful. This design cooperates with the label synchronized location structure enable the precision of cut location within 1mm.
7 Many emergency stop buttons enable emergency stop at the proper position along the production which guarantee the safe production.
Main technical parameters of the sleeve labeling equipment:
Voltage;
1 Host machine; AC220V, 50/60HZ, 1.5-2KW, single-phase
2. Production speed;7000-9000 b/h
The standard length of label is 100mm
and the speed can be adjusted accord to customer's requirements. The speed will be faster if the label is shorter.
4. Diameter of bottle body; 28mm-125mm
5. Length of label;30mm-250mm
6. Thickness of label;0.035mm-013mm
7. Material of label;PVC, PET, OPS
8.label material:pvc,pet,ops
9.shrink machine size:2100*850*2000mm
steam pressure:1kg/cm2
steam:50kg/h
steam furnance size:2000*500*1700mm
host machine;L2000MM*W850MM*H2000MM
---
Guarantee: for all the machine, it claims three years for guarantee.
(Excluded from the warranty are problems due to accidents, misuse , misapplication,
storage damage, negligence,
or modification to the Equipment or its components. ALSO THE EASY BROKEN SPARE PART IS
NOT INCLUDED IN THE GUARANTEE)
Installation: after the machine arrive your factory,if you need,our technician will go
to your place to install and
test the machine and also training your worker to operating the machine (The time of train
depend on you worker).
The expenses (air ticket ,food , hotel,the travelling fee on your country) should be on
your account and you need
paid for the technician USD50 per day. also you can go to our factory to do training.
After service: If you get the problem on the machine ,our technician will go to your
place to fixed the machine
as soon as possible. The cost should be in your account.(as above).