CERTIFICATES

CONTACT US

Email:jackdu999@yahoo.com

Tel:+8675586718316
Phone:+86-15811882441
Drip coffee bags packing machine ground coffee tea filling bagging equipment automatic VFFS set
Model YX-DC40
Type: Drip Coffee Packing Machine Series
Product name: Ultrasonic Drip Coffee Inner and Outer Bag Packing Machine
Bag type: 3 side sealing
Outer Bag size: L:85~120mm,W:75~100mm (Film width 200mm, Bag size: 120*100mm)
Inner Bag size: L:50~75mm, W:50~90mm (Filter paper width 180mm, Bag size: 90*75mm)
Packing speed: 40~60 bags/min
Filling range: 5~15g; accuracy:≦±0.1g/bag
Measuring: Volumetric cup
Inner Packing material Yamanaka Filter paper; Nylon filter mesh
Outer packing material Kraft paper/aluminum coating; PE/aluminum coating; PE film
Sealing method: Ultrasonic sealing and cutting for inner bag; Outer Bag by heat Sealing.
Power: Single phase, 220V, 50HZ, 1.5KW
Weight: 600KG
Dimension (L*W*H): 1200*900*1900mm

Description
Our machine model YX-DC40 packaging machine is mainly applicable for filling bagging the ground coffee into the instant drip cofee bags.
Category for packing machine coffee pack in the page
1. what is the coffee filter bag
2.Features of model YX-DC40 Packing machine
3.Technical data of drip coffee packing machine
4.details of coffee packing machine
5.Configrations of packing machine
7.Video to how machine is operated
A drip coffee filter bag is filled with ground coffee and is portable and compact.
Furthermore, the bag material can be compostable for Eco-friendly concerns. N2 gas is filled in every single sachet, keeping the taste and aroma fresh until just before serving. It offers coffee lovers the freshest and simplest way to enjoy coffee anytime and anywhere.
All that you need to do is tear it open, hook it over a cup, pour in hot water and enjoy!
Drip coffee tea bags packing machine
Drip coffee bag packing machine is suitable for Drip coffee bag with outer envelope, available with ground coffee like Brazilian coffee, Guatemala coffee, Honduras coffee, Villa coffee and Arabica coffee, etc, and other small granule products.
Feature of coffee packaging machine:

1 Outer bag sealing is controlled by the stepper motor, ensuring accurate and stable bag length positioning.
2 Adopts PID temperature controller for more accurate temperature adjustment.
3 Adopts PLC control system, touch screen color monitor device, machine is very easy to operate.
4 It can make inner and outer bag in same time automatically, which would highly improve the working efficiency.
5 The process of bag making measuring, filling, sealing, cutting, logo positioning, counting can be finished automatically.
6 All parts in direct contact with products are made of SUS304 stainless steel, ensuring reliable products output conforming to GMP standard.
7 Some parts of the cylinder are imported, ensuring the accuracy and stability of performance.
8 Adopts automatic conveyor system.
9 Machine reserved a connector to link with Nitrogen gas generator so that it can flush the nitrogen into bag to extend product shelf life.
10 Optional devices: Date code printer, nitrogen gas generator, etc.
Standard Technical Data of model YX-DC40 drip coffee bags packing machine:

Type: Drip Coffee Packing Machine Series
Product name: Ultrasonic Drip Coffee Inner and Outer Bag Packing Machine
Bag type: 3 side sealing
Outer Bag size: L:85~120mm,W:75~100mm (Film width 200mm, Bag size: 120*100mm)
Inner Bag size: L:50~75mm, W:50~90mm (Filter paper width 180mm, Bag size: 90*75mm)
Packing speed: 40~60 bags/min
Filling range: 5~15g; accuracy:≦±0.1g/bag
Measuring: Volumetric cup
Inner Packing material Yamanaka Filter paper; Nylon filter mesh
Outer packing material Kraft paper/aluminum coating; PE/aluminum coating; PE film
Sealing method: Ultrasonic sealing and cutting for inner bag; Outer Bag by heat Sealing.
Power: Single phase, 220V, 50HZ, 1.5KW
Weight: 600KG
Dimension (L*W*H): 1200*900*1900mm
Details of drip coffee bags packing machine model YX-DC40:
Configuration of model YX-DC40 drip tea bags packing machine:
Sr

name

Model #

Mark

1

PLC

CP1H-X40DT-D

Omron(Japan)

2

Touch screen

TK6070IQ

Wenview(TaiWan)

3

Servo

ISA-7-040-S1

Hechuan

4

Step driver

SD20806

Laser(SHENZHEN)

5

Step motor

86BYG250C

6

Switch

NES-150-48

MeanWell(TaiWan)

7

Filter

SH210-20

ZhengTai(ZheJiang)

8

Amplifier

FZ1-KP2

Ruike(TaiWan)

9

Fiber wire

PT-410-B1

Ruike(TaiWan)

10

Leakage

DZ47LE-32 C25A

ZhengTai(ZheJiang)

11

Solid Relay

SSR-25DAH

DeteCon(Deutschland)

12

Film feeding motor

15W15K

JingYan(XiaMen)

13

Pneumatic Part

SMC(Japan)

14

Switch Button

LA167-B2-BA31

ChangDe(ShangHai)

15

Approximity Switch

E12-04NDA

Panosonic(Japan)

16

Ultrasonic

SanDian
Final product samples&Bags raw materials:
Machine in wooden case packaging before shipping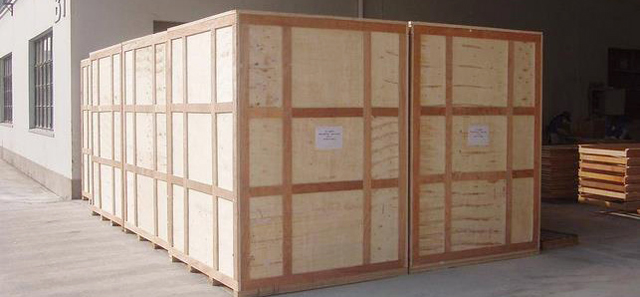 Guarantee: for all the machine, it claims one year for guarantee.(Excluded from the warranty are problems due to accidents, misuse , misapplication, storage damage, negligence, or modification to the Equipment or its components. ALSO THE EASY BROKEN SPARE PART IS NOT INCLUDED IN THE GUARANTEE)
Installation: after the machine arrive your factory,if you need,our technician will go to your place to install and test the machine and also training your worker to operating the machine (The time of train depend on you worker). The expenses (air ticket ,food , hotel,the travelling fee on your country) should be on your account and you need paid for the technician USD50 per day. also you can go to our factory to do training.
After service: If you get the problem on the machine ,our technician will go to your place to fixed the machine as soon as possible. The cost should be in your account.(as above).
Video demo of model YX-DC40 packing
ALL RIGHTS RESERVED by ®SHENZEHN PENGLAI INDUSTRIAL CORPORATION LIMITED