CERTIFICATES

CONTACT US

Email:jackdu999@yahoo.com

Tel:+8675586718316
Phone:+86-15811882441
Drinking straw production packaging line fully automatic plastic straws making counting feeding flow wrapping solution
Model YX-DSP1000 Drinking straw making extruder equipment
Power supply
Main Screw motor 380V,3 Phase,50Hz,22Kw,frequency inverter
Heater 15Kw(8Set,2sets for mold,Others 6 sets)
Main motor
380V,3 Phase,0.75Kw,Speed adjust by frequency inverter
Cutter motor
380V,3 Phase,0.75Kw,Speed adjust by frequency inverter
Cooling Cooling fan motor 6 sets Water cooling 1 set
Total Power 40Kw
Temperature controller 8Sets
Straw specification
Straw material PLA, PBS, PP, etc.
Diameter Φ2—Φ13mm
Length tolerance 0.1-1mm
Working Speed 600~1000pcs/min
Color 1 Cut angle 90°/60°/45°
Machine dimension 9m*1m*1.3m Machine weight 1.5 Ton

Description
Efficient Drinking straw production line is such a serise of machines with extrusion& shaping, pulling, and packing process. The complete production line is composed of drinking Straw extruder, automatic dryer, automatic Elevator and straw packing machine-online.
Click the numbers below-listed for easier navigation in this article:
1.Features of drinking straw making machine
4.speficiations of multiplcs drinking straw packing
5.configuration of packaging machine
6.wooden case shipping for production line
It is suitable for packing groups drinking straw in one bag, it can work for paper straw, plastic straw, wheat straw and PLA straw.

Features of drinking straw making production packaging line:

1. The plastic straw production and packaging line adopts English man-machine interface and touch screen.

2. The paper straw online machine adopts high-precision photoelectric tracking system, and can also be used for printing film. The machine includes a precision counting system, which is more precise.

3. A variety of raw materials are applicable. BOPP, CPP, Paper with PE, PLA.

4. The gears and bearings are precision ground and hardened to ensure smooth and quiet operations.

5. The die undergoes nitrogen hardening treatment for a long service time.

6. The surface of cutting machine are made of #304 stainless steel.

Extrusion production line consists of extrusion main engine, cooling water tank, traction cutting device and other parts. The new extrusion production line is designed and manufactured according to the material characteristics of PLA materials. It has the advantages of full plasticization of extrusion materials, accurate temperature control, high efficiency and energy saving, etc.
Drinking straw production line



Model YX-DSP1000 Drinking straw making extruder equipment
Power supply
Main Screw motor 380V,3 Phase,50Hz,22Kw,frequency inverter
Heater 15Kw(8Set,2sets for mold,Others 6 sets)
Main motor 380V,3 Phase,0.75Kw,Speed adjust by frequency inverter
Cutter motor 380V,3 Phase,0.75Kw,Speed adjust by frequency inverter
Cooling Cooling fan motor 6 sets Water cooling 1 set
Total Power 40Kw
Temperature controller 8Sets
Straw specification
Straw material PLA, PBS, PP, etc.
Diameter Φ2—Φ13mm
Length tolerance 0.1-1mm
Working Speed 600~1000pcs/min
Color 1 Cut angle 90°/60°/45°
Machine dimension 9m*1m*1.3m
Machine weight 1.5 Ton
Configuration of automatic drinking straw making machine:
Main electrical parts of automatic extruder:
Name Model Quantity
Touch screen TK6071iQ 1
PLC FP-X0 L30R 1
Servo motor HJ-KS73J 1
Relay RXM2LB2BD 7
Air switch C25/C10 1/4
Power supply ABL2REM24015H 1
Valve 1 Set
Photoelectric switch Z3N-TB22 1

Description Of Paper Straw Packing Machine
Paper Straw Packing Machine includes automatic feeding, automatic counting, back sealing, end sealing and cutting system.

This kind of paper straw wrapping machine working principle as below: Straws are well loaded in the hopper manually and are discharged in one or two ways by motorized system. The counting system counts straw, Once target quantity is finished, cylinder pusher will push straws into forming film, film will be heat sealed by back sealing system, then go to end sealing part, cut off the film.

Features Of Paper Straw Packing Machine
1. Bulk straw packing machine, which Human-Machine Interface adopt imported touch screen, language is English and Chinese, other language should be customized.

2. Bag length can be set in touch screen: for different straw length, need to change bag length, it can be done in screen, no need to change any gears or others.

3. Adopt high accuracy photocell tracking systems: this machine can use transparent film and printed film, when use printed film, turn on the function of photocell tracking system in touch screen.

4. Automatic counting function: one or two ways for feeding straws, counter is Panasonic brand from Japan, it can count odd quantity for straws, such like 25 pieces, 75pcs.

5. Bag length detect automatically: when use printed film, bag length can be detect automatically


Specifications Of Paper Straw Packing Machine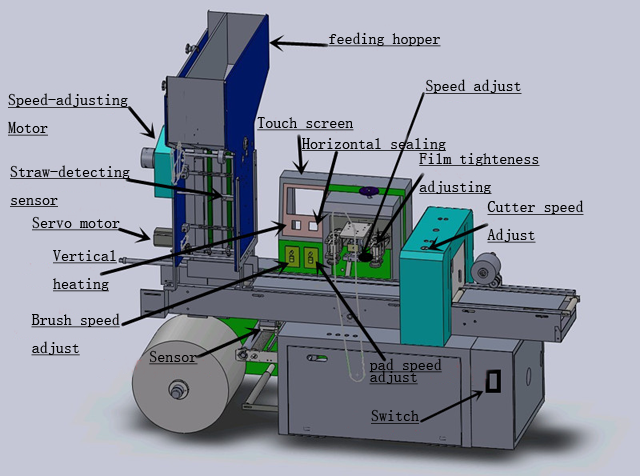 Model YX-TP500
Max. film width 530mm
Packing Speed(Adjustable) 8-18 bag/min
Film thickness 0.03-0.06mm
Bag Length 90–600mm
Bag Width 80–250mm
Straw quantity 5-300pcs
Power Supply 220V, 50/60 Hz, 3.5 KW, 1 Phase
Machine Size (L x W x H) 1990 × 1400 x 1530 mm
Machine Weight 350 Kg
Configuration of multiple drinking straws packing machine:
| | | | |
| --- | --- | --- | --- |
| Name | Model | Quantity | Brand |
| Touch screen | TK6071iQ | 1 | WenView |
| PLC | FP-X0 L30R | 1 | Panasonic |
| Servo motor | HJ-KS73J | 1 | Panasonic |
| Relay | RXM2LB2BD | 7 | Omron |
| Air Switch | C25/C10 | 1 | Schneider |
| Power supply | ABL2REM24015H | 1 | Schneider |
| Valve | | 1 | Jelpic |
| Photoelectric switch | Z3N-TB22 | 1 | Schneid |
Auxiliary equipments for the line:
Wooden case packaging for shipping:
How are paper straws made?
The paper straw is a kind of environmental protection plastic straw. After a few months of application, it will biodegrade and subside in the soil layer. The world's paper straw sales market can be physically divided into North America, Asia including Japan, South America, Western Europe, Europe, the Middle East, and Latin America. Because of the successive promulgation of relevant requirements prohibiting the use of disposable straws, paper straws It is widely used in such countries and regions. The market for paper straws is vast.

For a paper straw to be successfully manufactured, three grams of paper straw base paper must be used. They are 28 grams of paper straw base paper for the application of the outer packaging box of the paper straw, and 60 grams of paper straw base paper for the surface packaging and printing of the paper straw. 120 grams of paper straw base paper is used for the inner layer of paper straws; among them, there are different performance requirements for different grams of paper straw base paper. 28 grams of paper used for paper straw packaging papers can meet the food-grade stainless steel specifications, 60 grams The paper straw base paper stipulates that the packaging and printing effect is very good. The 120g paper straw base paper stipulates high compressive strength, can withstand the paper straw and is not easy to deform, and has good moisture resistance.
The Manufacturing Process
Straw manufacturing requires several steps. First, the plastic resin and other components are mixed together; the mixture is then extruded in a tube shape; the straw may under go subsequent specialized operations; and finally the straws are packaged for shipment.

Plastic compounding
1 The polypropylene resin must first be mixed with the plasticizers, colorants, antioxidants, stabilizers, and fillers. These materials, in powder form, are dumped into the hopper of an extrusion compounder that mixes, melts, and forms beads of the blended plastic. This machine can be thought of as a long, heated, motor driven meat grinder. The powders are mixed together and melted as they travel down the barrel of the extruder. Special feeder screws are used to push the powder along its path. The molten plastic mixture is squeezed out through a series of small holes at the other end of the extruder. The holes shape the plastic into thin strands about 0.125 inch (0.3175 cm) in diameter. One compounding method ejects these strands into cooling water where a series of rotating knives cut them into short pellets. The pellet shape is preferred for subsequent molding operations because pellets are easier to move than a fine powder. These pellets are then collected and dried; they may be further blended or coated with other additives before packaging. The finished plastic pellets are stored until they are ready to be molded into straws.
Straw extrusion

2 The pellets are transferred to another extrusion molder. The second extruder is fitted with a different type of die, which produces a hollow tube shape. The pellets are dumped in a hopper on one end of the machine and are forced through a long channel by a screw mechanism. This screw is turned in the barrel with power supplied by a motor operating through a gear reducer. As the screw rotates, it moves the resin down the barrel. As the resin travels down the heated channel, it melts and becomes more flowable. To ensure good movement and heat transfer, the screw fits within the barrel with only few thousands of an inch clearance. It is machined from a solid steel rod, and the surfaces almost touching the barrel are hardened to resist wear. By the time the resin reaches the end of the barrel, it is completely melted and can be easily forced out through the opening in the die.
3 The resin exits the die in a long string in the shape of a straw. It is then moved along by a piece of equipment known as a puller which helps maintain the shape of the straw as it is moved through the rest of the manufacturing process. In some processes, it is necessary to pull the straw through special sizing plates to better control the diameter. These plates are essentially metal sheets with holes drilled in them. Eventually, this elongated tube is directed through a cooling stage—usually a water bath. Some operations run the plastic over a chilled metal rod, called a mandrel, which freezes the internal dimension of the straw to that of the rod. Ultimately, the long tubes are cut to the proper length by a knife assembly.
Special operations
4 Straws with special design requirements may undergo additional processing. For example, so called "crazy" straws, which have a series of loops and turns, may be bent into shape using special molding equipment. Another type of straw with special manufacturing requirements is the "bendable" straw. This type of straw can bend in the middle and is made using a special device that creates
a series of grooves that allow the straw to flex. These grooves can be crimped into the straws in a two step process. First, it is first necessary to "pick up" the straw so it can be manipulated. This can be accomplished by spreading the straws across a flat plate, which has slots cut in it. The straws will tend to roll into the slots and remain there. The slots are evenly spaced and are adjacent to a separate metal plate, which has a series of metal pins extending from it. The pins are aligned in a parallel fashion with the slots on the plate. Once the straws have come to rest in the slots, the pins can be easily inserted into the straws. The straws can then be easily lifted up and moved around in any orientation by simply manipulating the plate that holds the pins. The steel pins holding the straws have a series of parallel rings cut into them. As the straws are wrapped around the pin, they are gripped by a pair of semi-circular steel jaws, which have a complementary set of rings. The jaws crimp a series of rings into the straw. The crimp pattern allows the straws to bend without closing off. After these operations, the straws can then by proceed to packaging.
Packaging
5 Straws are typically packaged in individual paper sleeves after manufacturing. This packaging is widely used for applications where each straw must be kept sanitary. One method of packaging involves loading the finished straws into a supply funnel. At the bottom of the hopper is a wheel with straw receiving grooves cut in it around its outer edge. The straws drop out of the hopper and are picked up one at a time by this rotating wheel. As the wheel rotates, it moves the straws along to a second wheel, which has grooves connecting to a vacuum source. Sheets or packaging material (paper wrap) are moved onto this wheel from a supply roller. The vacuum holds the paper in place while the main wheel feeds straws on top of the paper. Another layer of paper is guided over the first and the assembly then passes through a sealing roller. The two layers of paper are then crimped together with the application of pressure or otherwise sealed together. The sealed sheet of straws then travels along the conveyor to a punching region where a die presses down and cuts out individual straws. The die cut pieces then move along a conveyor to a collection area. The individual straws can then be bundled together and packed in boxes or pouches for shipping.
ALL RIGHTS RESERVED BY ®SHENZEHN PENGLAI INDUSTRIAL CORPORATION LIMITED