CERTIFICATES

CONTACT US

Email:jackdu999@yahoo.com

Tel:+8675586718316
Phone:+86-15811882441
Czechian customer bought liquid detergent bottles hot melt glue labeler single station labeller
Published by: PENGLAI INDUSTRIAL CORPORATION
Date:2022-09-28 09:52:12
Our new customers from Czech republic (East Europe) placed the order on one(1*) pc of machines: Model YX-HML01 single station sticker labeling machine hot melt glue bottle labeller.
For all the machines purchased it is clear to confirm all the information on the products so we often ask our customers to freight the samples to test and commission the machines in order that the machines and customer's products gains the best compatibility and adaptability.
After getting the confirmation &samples of the product in sizes and drawing for manufacturing the hot melt paste labeler machines
we spent only 15 working days finishing everything and made the machines ready after testing them in a satisfactory feedback.
Recently our customers sent us the positive commentar on the machines which keep running very well in their factory ever since the machines arrived their factory.
The machines was shipped via DHL courier to Víde¨¾ská 149/125A, 619 00, Brno,Czech The documentaries certificated with ISO&CO&CE together with other files necessory are sent via DHL to customer for assisting customers to clear the custom.

As below there listed the basic information on the successful transaction between PENGLAI and their European counterpart:

Purchased order issued &Key communiction points During Business Discussion:


Samples sent from customers in East Europe


Bank copy of Down&balance payment for purchasing Model YX-HML01 STICKER LABELING MACHINE Opp labels applicator: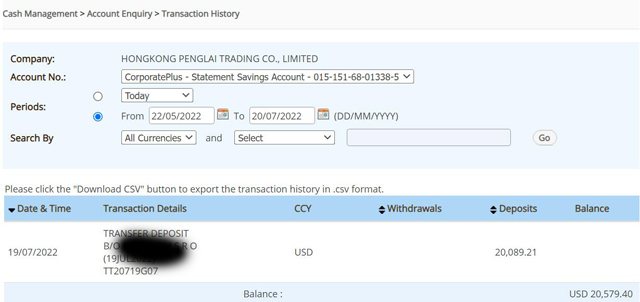 Testing videos on model YX-HML01 one station Opp labels applicator equipment:

Wooden case packing of hot melt glue labeling machine model YX-HLM01.


As follow there given the description on the machines purchased respectively
This is a new continuous hot melt adhesive OPP labeling machine. It can automatically adjust the in and out transmission of the container; The containers which are separated by the bottle separation screw and kept in a distance according to the spacing of the star wheel are transferred to the container turntable. After the container is fixed by the bottle pressing mechanism and the mold seat of the container, the container starts to rotate at a certain speed, and the bottle is mechanically pre-positioned during the rotation of the product. The label is labeled in a specified position.
Click the number list for easier navigation on this product page:
1.Operation process of hot melt glue labeller;
2.Main parts of single station labeller equipment;
3.Mechanical part of hot melt glue labeler;
4.Safety parts of labeller equipment;
5.Parameters of model YX-HLM01 hot melt glue labels machine;
6.Details of labeling machine square bottles labeller;
7.configurations of model YX-HML01 single station labeller;
8.What is the hot melt adhesive?;
Operation process of hot melt glue labeller equipment:
When the container reaches the detection position of the electric eye, the computer controls the label delivering system to deliver the label. When a label delivering action is completed, the high-speed cutter cuts a label. The labeling accuracy and stability is ensured with the help of Sanyo small inertia high-speed servo motor.

The cut labels are sent to the gluing system which applies glue to both the leading and trailing edges of a label. This gluing method consumes the least consumption of hot melt adhesive.
When the glued label is transferred to the labeling position, the label can be accurately and effectively adhered to the container. Since the container is in a rotating state during the transfer process, the label can be affixed to the container smoothly and tightly. The adhesive strip at the end of the sizing can form a good label lap seal, completing a labeling process.
Main part for model YX-HML01 single station machine labels applicator: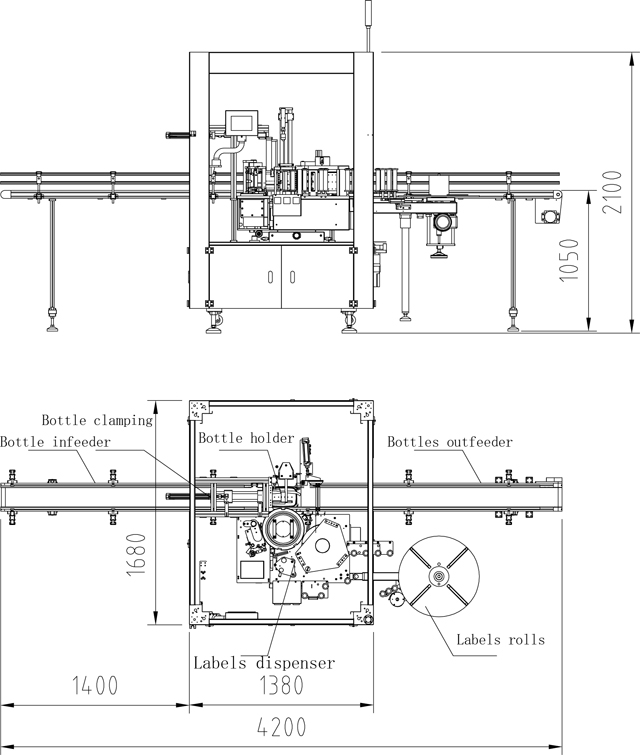 Sanyo Servo System
Sanyo Servo Drive System
FLEXEM 7-inch HMI
Pansonic high-resolution color label sensor
Pansonic high-resolution gluing and missing detection sensor
Pansonic product detection sensor switch
Pansonic pressure sensor


Conveying mechanism: 90W Taiwan Chenggang Motor
Conveyor belt: Industrial film-based conveyor belt
Main motor: 1500W Italian BOEM AC motor (with original BOEM reducer)
Bottle separation mechanism: Rodless cylinder bottle separation mechanism
Positioning mechanism: Stepper motor positioning and labeling
Labeling mechanism: The stepper motor drives the bottle and performs labeling during rotation
Label delivering mechanism: Yujun servo film delivering system (high-speed servo motor drive)
Pressing mechanism: brush assembly
Bottle guide mechanism: Profile guide rail with dual coordinate adjustment
Glue supply system: Yujun specialized hot melt glue supply system (German Siemens control system) to ensure the accuracy and uniformity of glue application

Hot melt Labels Applicator Equipment safety protection:
Safety protection: close the protection door.
Label shortage alarm: Set the alarm when the label is running out to remind the operator to replace the label
Bottle shortage alarm: when there is a shortage of bottles, the equipment will stop and alarm; when there are bottles, it will automatically resume production, which is convenient for on-line production
Labeling Missing alarm
Air pressure detection: When the air pressure does not meet the production requirements, the equipment will shut down automatically.
Vacuum detection: When the vacuum does not meet the production requirements, the equipment will shut down automatically.
Temperature detection: When the temperature of the hot melt adhesive does not meet the production requirements, the equipment will shut down automatically.
Technical parameter of single station opp melt labeling machine: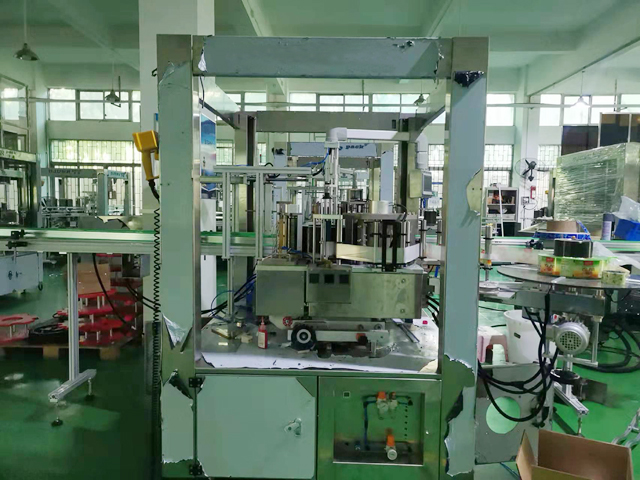 Model YX-HML01
Power: Three-phase 380V 50 Hz 3000W
Length: 3650mm
Equipment width: 1450mm
Conveyor line speed: 20m/min (conveyor line speed can be adjusted according to actual production conditions)
Speed adjustment method: Sectional speed adjustment
Max label dispensing speed : 60 m/min
Maximum labeling speed: 20 pcs/min
Labeling accuracy: ±1mm (requires customer bottle size error within ±0.3mm)
Product size: square bottle
Maximum label width: 160mm
Maximum label length: 600mm
Maximum label diameter: ¡¡600 mm
Paper core diameter: 152mm
Labeling glue: hot melt adhesive, only apply glue on both ends of the label (German Henkel 362 or German Henkel 387)
Label type: BOPP pearlescent film composite film label
Whole machine weight: about 1200 Kg

Remark:
Power: 14Kw
Gas consumption: 6Kg, 8L/min;
Power supply voltage: three-phase 380V
Production capacity: 1200 bottles/hour
Details of hot melt glue labeller equipment model YX-HML01: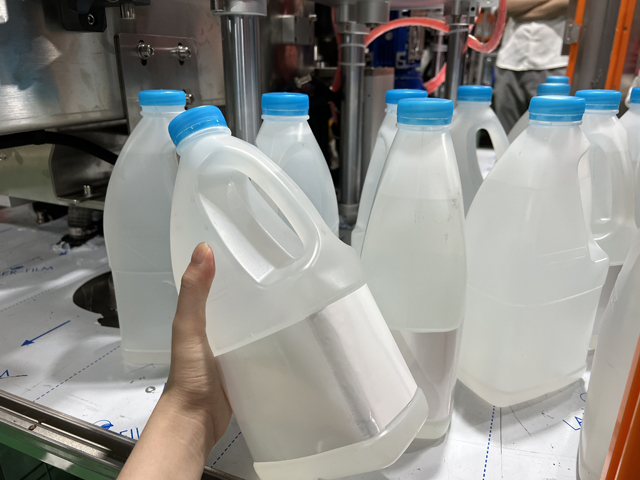 The following table is a detailed list of the main electrical components of each hot melt adhesive labeling equipment.
| | | | | | |
| --- | --- | --- | --- | --- | --- |
| Serial No. | Item Name | Brand | Country | QTY | Remark |
| 1 | Label delivering servo motor | Sanyo | Japan | 1 | 750w |
| 2 | Label delivering servo driver | Sanyo | Japan | 1 | 750w |
| 3 | Frequency converter | Danfoss | DenMark | 3 | |
| 4 | Air switch | Merlin | France | 1 | |
| 5 | Circuit Breaker | TE | France | 1 | |
| 6 | Relay | Omron | Germany | 3 | 24V |
| 7 | Emergency stop switch£¨one at the front and one at the rear£© | TE | France | 2 | |
| 8 | Switching power supply | MeanWell | TaiWan | 1 | 13A |
| 9 | Control cable | | China | | Multi-core shielded wire |
| 10 | PLC | Siemens | Germany | 3 | |
| 11 | HMI | FLexem | China | 1 | |
| 12 | Detection sensor | Panasonic | Japan | 3 | |
| 13 | Label detection sensor | Panasonic | Japan | 1 | Digital display adjustment |
| 14 | Main power motor 1500W | BOEM | Italy | 1 | Inverter speed regulation |
| 15 | Main power motor reducer | BOEM | Italy | 1 | |
| 16 | Conveyor belt motor 90W | Chenggang | TaiWan | 1 | Inverter speed regulation |
| 17 | Conveyor belt motor reducer | Chenggang | TaiWan | 1 | |
| 18 | Gluing motor 1:20 | Panasonic | Japan | 1 | |
| 19 | Acoustic speed control Motor 60W | Panasonic | Japan | 1 | |
| 20 | Stainless steel Material | | China | | |
| 21 | Conveyor belt chain plate | | | | Industrial Type |
Annotation: What is the Hot melt Adhesive?
Hot melt adhesive (HMA), also known as hot glue, is a form of thermoplastic adhesive that is commonly sold as solid cylindrical sticks of various diameters designed to be applied using a hot glue gun. The gun uses a continuous-duty heating element to melt the plastic glue, which the user pushes through the gun either with a mechanical trigger mechanism on the gun, or with direct finger pressure. The glue squeezed out of the heated nozzle is initially hot enough to burn and even blister skin. The glue is sticky when hot, and solidifies in a few seconds to one minute. Hot melt adhesives can also be applied by dipping or spraying, and are popular with hobbyists and crafters both for affixing and as an inexpensive alternative to resin casting.

In industrial use, hot melt adhesives provide several advantages over solvent-based adhesives. Volatile organic compounds are reduced or eliminated, and the drying or curing step is eliminated. Hot melt adhesives have long shelf life and usually can be disposed of without special precautions. Some of the disadvantages involve thermal load of the substrate, limiting use to substrates not sensitive to higher temperatures, and loss of bond strength at higher temperatures, up to complete melting of the adhesive. This can be reduced by using a reactive adhesive that after solidifying undergoes further curing e.g., by moisture (e.g., reactive urethanes and silicones), or is cured by ultraviolet radiation. Some HMAs may not be resistant to chemical attacks and weathering. HMAs do not lose thickness during solidifying; solvent-based adhesives may lose up to 50–70% of layer thickness during drying.

Applications of HMA

Hot-melt adhesives are as numerous as they are versatile. In general, hot melts are applied by extruding, rolling or spraying, and the high melt viscosity makes them ideal for porous and permeable substrates.[43] HMA are capable of bonding an array of different substrates including: rubbers, ceramics, metals, plastics, glass and wood.[40]

Today, HMA (hot-melt adhesives) are available in a variety of different types, allowing for use in a wide range of applications across several industries. For use with hobby or craft projects such as the assembly or repair of remote control foam model aircraft, and artificial floral arrangements, hot-melt sticks and hot-melt glue guns are used in the application of the adhesive. For use in industrial processes, adhesive is supplied in larger sticks and glue guns with higher melting rates. Aside from hot melt sticks, HMA can be delivered in other formats such as granular or power hot melt blocks for bulk melt processors. Larger applications of HMA traditionally use pneumatic systems to supply adhesive.[43]

Examples of industries where HMA is used includes:

Closing the flaps of corrugated boxes and paperboard cartons in the packaging industry.
Spine gluing in the bookbinding industry
Profile-wrapping, product assembly and laminating applications in the woodworking industry
Disposable diapers are constructed through the use of HMA, bonding the non-woven material to both the backsheet and the elastics.
Many electronic device manufacturers may also use an HMA to affix parts and wires, or to secure, insulate, and protect the device's components.
ALL RIGHTS RESERVED by ®PENGLAI INDUSTRIAL CORPORATION LIMITED