CERTIFICATES

CONTACT US

Email:jackdu999@yahoo.com

Tel:+8675586718316
Phone:+86-15811882441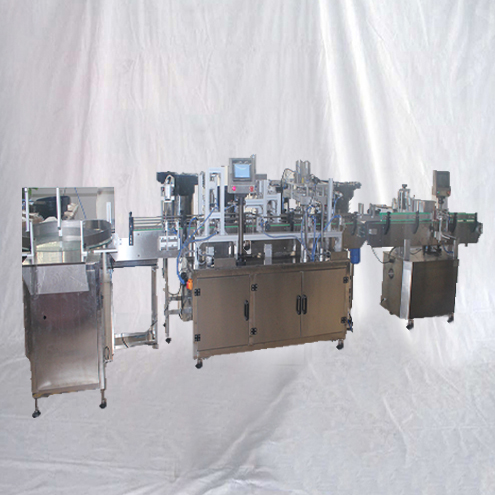 Car refreshener perfume bottles filling capping labeling line fully automatic liquid bottling line multifunctional filler equipment
Model YX-100G
Filling nozzle: 2pcs capping head:1pcs
Filling volume:2ml-300ml; Viscosity of filling materials: ≤5000cps
Dimension of the whole production line:6000mm*1800mm*1700mm(L*W*H)
weight about: 970 KG
supply voltage: 220V 50HZ 1PH
supply air pressure: 4-7kgf/cm2
capacity: about 15-20pcs/min(more or less based on bottles)
Power supply 3.25KW
Current: 9.2A
Operator needed: 1 only enough


Description
This production line filling and capping machine part mainly completes the filling-top cover-locking cover by using horizontal conveying and multi-station coordinated operation, saving manpower and wide applicability. This machine is suitable for filling perfume or other low viscosity materials into three different sizes of glass round bottles. Automatic positioninglabeling machine is mainly used for automatic labeling of flat or curved surfaces of various shapes such as medicine, daily chemical, toys and food.The whole production line adopts imported electric eye and program controller to control cylinder labeling. The exposed parts of the machine are made of stainless steel, engineering plastics, high-strength alloy aluminum treated by anodized surface, fully meet the requirements of GMP.
* please must read before the first use *
1:Please read this page first before operator use it the first time.
2:Please be sure that power on/off is in "off" status before plug in the machine, then operate it according to instruction.
3:You should use dry cloth to rub-up the machine if it doesn't work for a long time,don't use wash it with corrosive detergent.
4:Don't let liquid into the inner of machine electronic box,so that can protect the electric appliance inner component from corrosion or short circuit.
5:According to equipment packing list,inspect the models of equipment and material,specification and quantity should be applicable to request of design and product standard,it should have product qualified certification.
6 :Inspect the equipment should not have transformation,damage and corrosion, each spindle is easy to rotate,no clamping stagnation.
7:This machine is single phase AC220V,attaching plug is flat with 3 heads,it should be plug into ground electrode outlet.
The whole line is designed by actual perfume bottles products which are popular in EU Market.
Working Process:
1. Manually load bottles to the bottle feeding turntable.
2. The bottle enters the conveying line and then into the filling mechanism. The photoelectric detection detects the filling position of the bottles, positioning block cylinder to grab bottles and filling.
3. After filling is completed, the positioning cylinders releases the bottles and sends them to the pump placer station (if it is the bottle that does not have pump but with insert, they will skip this station and directly to the insert placing station). Once the sensor detects the bottles, the positioning cylinders holds the bottle for pump placing.
4. The pump placing process is completed (or the plunger). The positioning cylinder releases bottles and continues to be indexed to the outer cap placer to start placing the outer cap.
5.Cap placed bottles will then be conveyed to the cap tightening station, where once bottles are detected, positioning cylinder grabs and tightens the bottles
6.After caps are tightened, bottles will be indexed to the labeler for labeling and then printing dates.
7.Manual collection.
Technical parameters of customized model YX-100G perfume filling line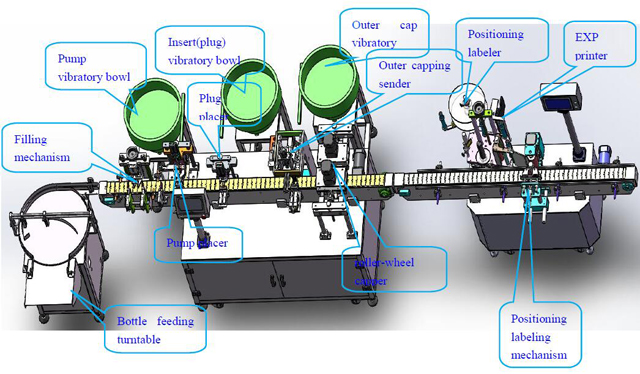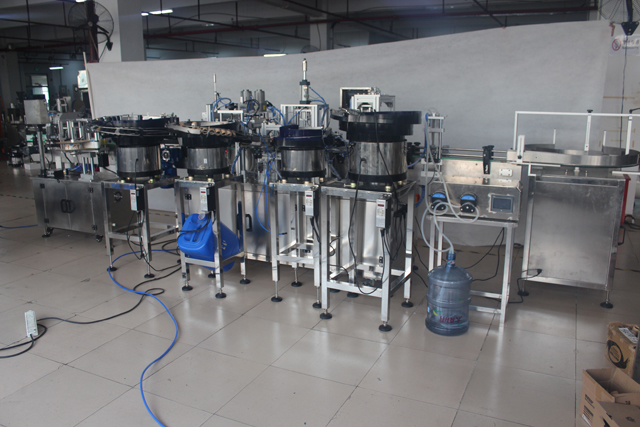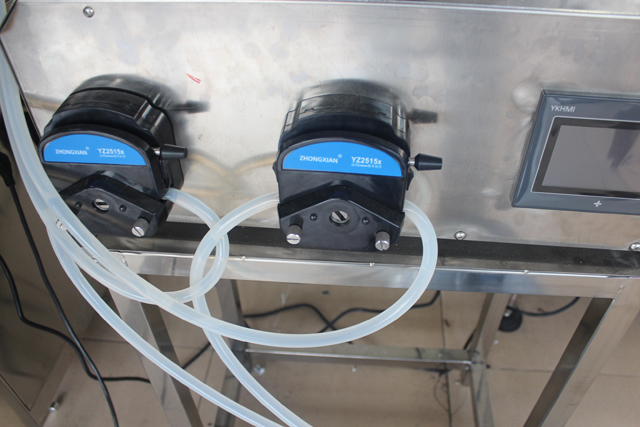 Model YX-100G
Filling nozzle: 2pcs capping head:1pcs
Filling volume:2ml-300ml; Viscosity of filling materials: ≤5000cps
Dimension of the whole production line:6000mm*1800mm*1700mm(L*W*H)
weight about: 970 KG
supply voltage: 220V 50HZ 1PH
supply air pressure: 4-7kgf/cm2
capacity: about 15-20pcs/min(more or less based on bottles)
Power supply 3.25KW
Current: 9.2A
Operator needed: 1 only enough
Main parts and brands of the equipment
NO.

name

Brand/Model

QTY

1

PLC

Panasonic/Delta

1

2

Touch Screen

WEINVIEW

1

3

Linear guides and sliders

Hiwin

1

4

Two phase speed regulating motor

TL

1

5

Sensors

Panasonic/Enclave/Roco

N

6

Vibratory bowl

CUSTOMIZED

1

7

Air cylinder

Xingchen/Yadeke

N

8

Three phase speed regulating motor

TL

1

9

86 stepper motor

RCON

1

10

printer

customized

1

11

12

13

The electrical cabinet adopts aluminum profile and structural parts adopts oxidized aluminum, chromed plated rods and SS304
Samples perfume bottles
Machines in export-standard wooden case&loaded in the container: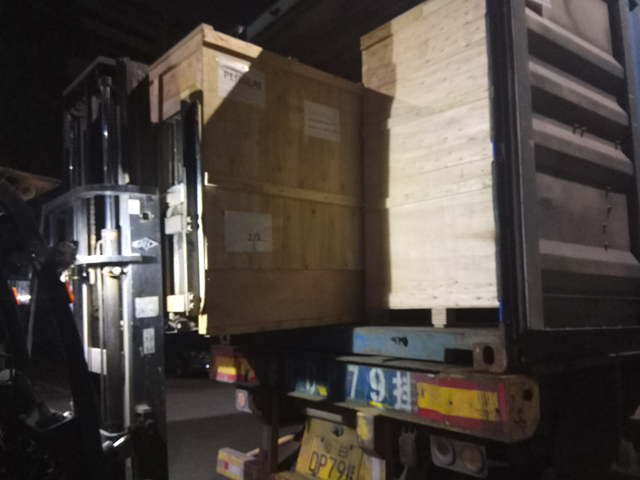 ALL RIGHTS RESERVED by ®PENGLAI INDUSTRIAL CORPORATION LIMITED