CERTIFICATES

CONTACT US

Email:jackdu999@yahoo.com

Tel:+8675586718316
Phone:+86-15811882441
Canada ON Repeat customer purchased tabletop induction sealing machine semi automatic
Published by: PENGLAI INDUSTRIAL CORPORATION
Date:2018-03-31 20:28:56
Our Regular customers from Canada(North American) placed another order on one(1*) set of tabletop type induction sealing machine model YX-S1500A;
For all the machines purchased it is clear to confirm all the information on the products so we often ask our customers to freight the samples to
test and commission the machines in order that the machines and customer's products gains the best compatibility and adaptability.
After getting the confirmation &samples of the product in sizes and drawing for manufacturing the model YX-S1500A induction sealing machine
we spent only 7days finishing everything and made the machines ready after testing them in a satisfactory feedback.
Recently our customers sent us the positive commentar on the machines which keep running very well in their factory ever since the machines arrived their factory.
The machines was shipped via courier to Ontario Canada . The documentaries certificated with ISO&CO&CE together with other files necessory are sent via DHL to customer for assisting customers to clear the custom.

As below there listed the basic information on the successful transaction between PENGLAI and their Canadian counterpart:

Purchased order issued from CAnadian customer:


Samples sent from customers in North America


Bank copy of Down&balance payment for purchasing tabletop induction sealing machine


Testing videos on tabletop induction sealer

Wooden case packing of Sealing machine semi automatic model YX-S1500A.


As follow there given the description on the machines purchased respectively
Tabletop Aluminum Foil Induction Sealing Machine, Stainless steel induction sealer machine
This machine can not be used for metal cap,machine is made of Stainless Steel, in line with GMP requirement.
The Bottles materials can be PE, PP, PET, HDPE and glass etc. With high sealing efficiency, easy operation, and the sealing speed can be adjusted at will, with high accuracy.
Features

This series of machine of transistor circuit control, the characteristics of low cost, simple operation, easy to use. Mainly used for bottle with threaded plastics, glass bottle of bottle etc. Nonmetal induction membrane sealing operation. Applicable to large and medium sealing job. Batch continuity, Not suitable for acid, alkalinity and high humidity and dust more harsh environments (such as pesticides. SAN, etc.) for a long time. These series machines are suitable for single homework, do not use in line connected.Suitable for various sealing of pharmaceutics, daily chemicals, foodstuffs, cosmetics, pesticide and special trades.
Technical parameters of induction heating sealing machine aluminum foil tabletop electric magnesis sealer Máquina de sellado Botellas: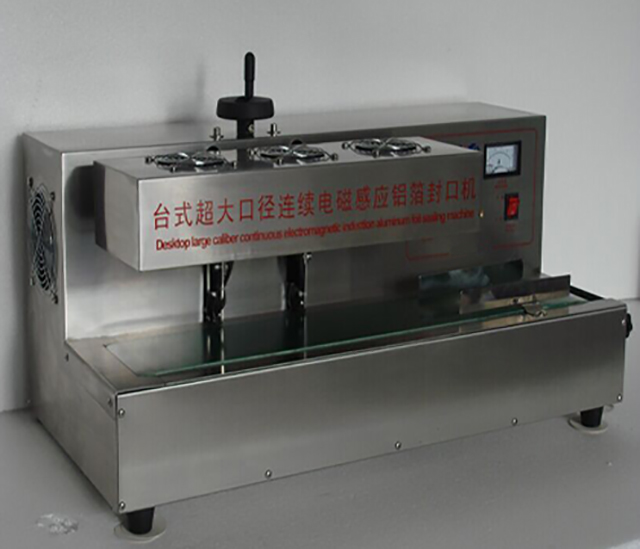 Model YX-S1500A transistor air-cooled desktop electromagnetic induction machine
Electrical source: AC220V±10% 50Hz
Reactive rate (W) : 1500
Current work more than eight :≤8(A)
Work: continuous conveying
Cooling way: forced cooling fan
Type: desktop
Materials: stainless steel chassis
Sealing diameter: φ 20 - φ 100(mm)
Apply high: 40 ~ 200(mm)
Sealing speed: 0 ~ 10m/min
Host: 115 x 48 ×40(cm)
Host: 38kg
Illustration of model YX-S1500A induction sealing machine:
Dimension of induction sealing machine
Working principle of sealing machine
Circuit diagram for induction sealing machine
Sealing samples for bottles in various sizes
Aluminum foils for sealing machine heating seal:
Wooden case packing for sealing machine tabletop induction sealer:
♦Payment Methods♦
These payments of T/T, L/C, Western Union, MoneyGram,Paypal are accepted. If you have any problem with the payment, please leave a message to us.
♦Logistics♦
DHL, EMS and UPS, Fedex are our choices. If you prefer other reliable shipping company. Please leave a message to us.
♦Tracking Number♦
Tracking number will be informed within 2-3 work days after delivery goods. If you have any problem with it, please leave a message to us.
♦Feedback♦
Any comments, suggestions are accepted. We will be very grateful to your positive footprints left in our company. If you have any problem with our products, please leave a message to us.
♦Refund♦
Any damage or shortage of our goods when you receive your items. Please take some photos for a witness. We will deal with it in 24 hours. Frequently, we will send a new part of items for alternative and heavy-damage, Before refund is accepted, please leave a message to us.
ALL RIGHTS RESERVED by ®PENGLAI INDUSTRIAL CORPORATION LIMITED