CERTIFICATES

CONTACT US

Email:jackdu999@yahoo.com

Tel:+8675586718316
Phone:+86-15811882441
Bulgarian customers purchased bottles filling machinery &granules weighing filling equipment
Published by: PENGLAI INDUSTRIAL CORPORATION
Date:2021-03-31 16:29:49
Our customers from Bulgaria (East Europe) placed another order on two(2*) pcs of machines: one is filling pneumatic tabletop model YX-LC02-1000; the other paraffin wicks weighing filler tabletop type Model YX-PF99.
For all the machines purchased it is clear to confirm all the information on the products so we often ask our customers to freight the samples to test and commission the machines in order that the machines and customer's products gains the best compatibility and adaptability.
After getting the confirmation &samples of the product in sizes and drawing for manufacturing the filling machines
we spent only 10 working days finishing everything and made the machines ready after testing them in a satisfactory feedback.
Recently our customers sent us the positive commentar on the machines which keep running very well in their factory ever since the machines arrived their factory.
The machines was shipped via courier to Samokov Bulgaria . The documentaries certificated with ISO&CO&CE together with other files necessory are sent via DHL to customer for assisting customers to clear the custom.

As below there listed the basic information on the successful transaction between PENGLAI and their Bulgarian counterpart:

Purchased order issued from European customer:

Samples sent from customers in East Europe


Bank copy of Down&balance payment for purchasing semi automatic gramules&Liquid filling machines semi automatic:


Testing videos on semi automatic filling machine and paraffin wicks granules weighing filler equipment:

Wooden case packing of semi automatic granules filling machine and liquid filler machine.

As follow there given the description on the machines purchased respectively
MACHINE SUS316 Certification:
This product tea racking packing machine semi automatic model YX-PF99 has been excellent engineers carefully study design, the use of microcomputer control of optical technology, high accuracy, fast, good quality, solve the traditional tea packaging tedious process. An automatic dosers several labor equivalent amount of tea production and tea shop is a good helper.
Uses: Suitable for tea, food, food, seeds, fruit, grain shape chemicals and pharmaceuticals, micro and small components such as general non-sticky solid materials.
Features of weighing and packing bag tea packaging machine automatic measurement of particle packing machine 2-50g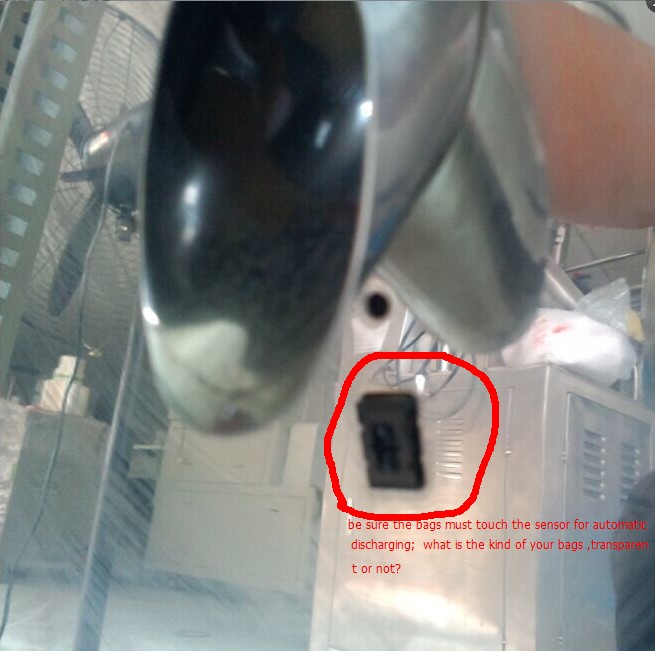 1: microcomputer control self-energy, so that more precise and accurate dispensing, fast, fully automated dispensing process.
2: The contact material parts all stainless steel, no contaminated material.
3: double shock structure, the machine is running smoothly, low noise.
4: small size, light weight.
5: minimal power, energy conservation.
6: oblique throwing feeding, do not squeeze the material damage, especially for fragile materials packaging.
7: Show Package weight and number of packages.
8: Adjustable packing speed.
9: Set weighing excessive alarm.
10: stainless steel, never rust.
The main technical parameters of semi automatic tea powder granules packing machine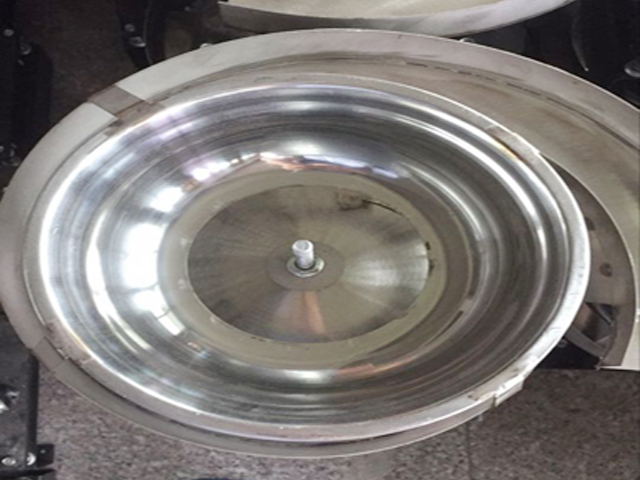 Model YX-PF99
Size:360*410*420mm
Hopper:Diameter:16cm/depth 21cm
Voltage:220V/50HZ
Power:100W
Weight:2-99.9g(Optimized range:3-50g)
Racking Speed:10-30times per minúĘvaries due to materialsúę
Filling precisionú║0-0.3g
Application:Granules like tea rice seeds
Weight 33KG
*Note: The above parameters for reference only. The machine constantly upgrades parameters
may cause the actual discrepancies, please understand.
How to use the model YX-PF99 Rackingmachine step by step :
Packaging samples final product from tea powder granules racking machine semi automatic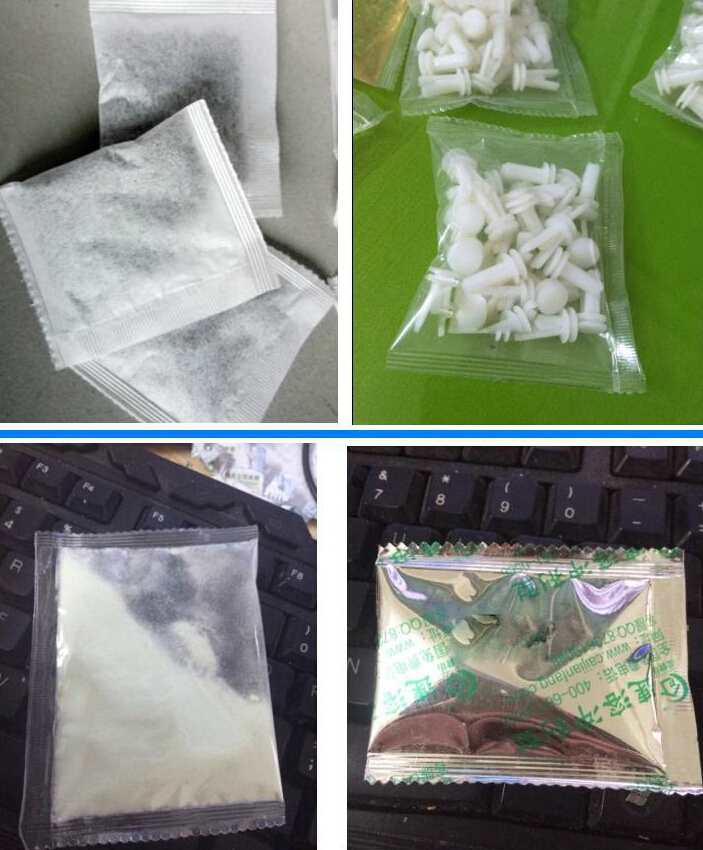 Paper carton shipping packaging with protective foam:
Sales terms for tea powder granules hardwares small articles rack packing machine model YX-PF seres
Manual instruction put together with the racking machine semi automatic model YX-PF99: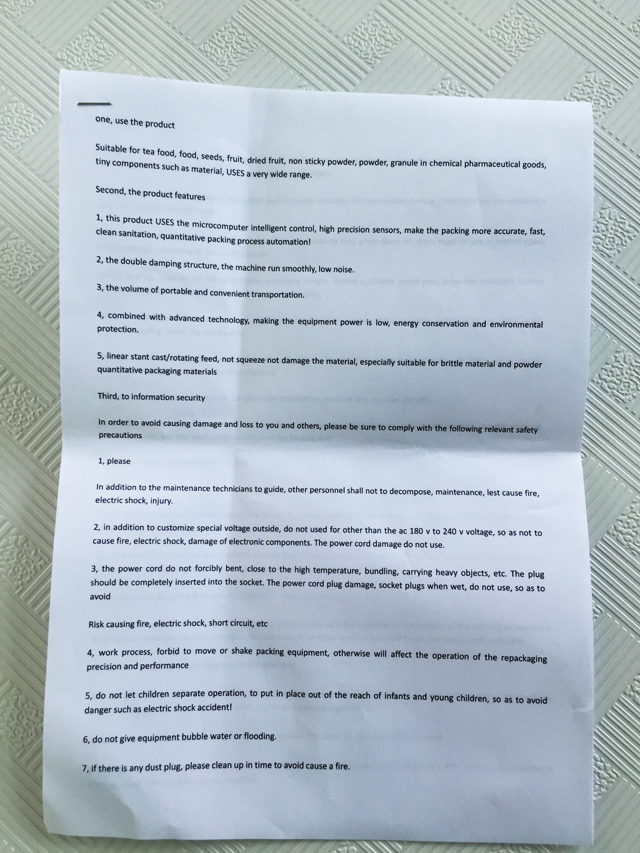 Description on model YX-LC02-1000ml Filling machine:
ó˝.YX-LC02 Semi automatic horizontal filling machine with Hopper for cream&liquid filling
Suitable for filling cream/gel/paste/ointment in tubes, jars,
Available in manual as well as motorized model
All contact parts are made up of SS304/SS316
Filling range with change parts: 5 to 5000ml per stroke
SS made hopper having capacity up to 20KG
Easy to operate, no maintenance required;
:
Specifications of pneumatic filling machine semi automatic model YX-LC02:
Voltage: 220/110V 50/60Hz
Power: 10W
Rated pressure :0.4-0 .6 Mpa
Filling speed :10-30 bottles / min / head
Filling precision: ĘQ ± 1%
Filling range : 30-500ml
Dimension: 1600*440*370mm
Weight : 61kg
Principles and characteristics of model YX-LC02 Pneumatic filling machine semi automatic filler:
The paste filling machine is semi-automatic piston type developed by our company, filling a series of high concentrations of fluids. It is through air cylinder to drive a piston and transfer--valve's Three Contacts principle to extract and to split out the highly concentrated material, and by magnetism-reed switch to control air cylinder's travel, then can adjust the filling volume.
2. This device is simple and reasonable in structure, easy to
understand, with high accuracy.
3. Pneumatic part adopts Germany FESTO and Taiwan AirTac pneumatic components.
4. Filling volume and filling speed can be arbitrarily adjusted
with high filling accuracy.
5. Filling head adopts anti-drip, anti- drawing and lifting devices.
Control Panel:
Semi Auto/Auto filling switch
Air Pressure Gauge
Air Intake Pressure Adjust
Filling Volume Adjust
<1>The machine is suitable for filling food trades(such as: pearl milk tea nata de coco hick broad-bean sauce chili sauce peanut sauce etc);cosmetics(shampoo frost shower gel);daily health product(toothpaste)
<2>The machine adopts pneumatic working principle, simple operation, high filling precision,is a certain concentration or certain size granular materials ideal filling equipment.
FAQ for liquid&lotion filling machine fully pneumatic
Q: Why buy it from you?
A: We are manufacturer .we design it and produce it by ourselves, we could offer customers more supports and more professional service .You could rest 100% assure by buying it from us ,because we could supply you with technical support. And we could help you to fix problems.
Q: What can you do if my machine did not work?
A: Firstly, tell me the detail about not working. Secondly, our engineer would find out the reason why it could not work .Thirdly, we would send you the parts for replacement if necessary, or we would tell you how to repair it. We would help you fixed the problems.
Q: Would it be more expensive if I buy it from you instead of buying it from our local supplier?
A: We are 100% sure that it would be cheaper by buying it from us. Because most of your local suppliers are importing such machine from our china and they have to add their own profit on the price. We are manufacturer , our price is the lowest price.
Q:How will you send it?
A: We would send it by DHL,UPS,FEDEX EMS which needs only 3-5days.
Q: Do you have warranty?
A: Yes, we do. we would offer 1year warranty, we would supply you the parts of free of charging in 1year.And we would supply you with technical support.
For more information browse our business youtube site http://www.youtube.com/watch?v=R2NDNdGHs-w

Payment Terms&Packaging pictures about our machine exported
Quotation: FOB (GUANGZHOU or SHENZHEN ) the below mentioned quotation based
Package: Each machine wrapped by PO film, then packed to standard wooden case.
Production Lead: 20 workdays after getting the down payment 30%,the other 70% payment collected before shipping
Guarantee: for all the machine, it claims one year for guarantee.(Excluded from the warranty are problems due to accidents, misuse ,
misapplication, storage damage, negligence, or modification to the Equipment or its components. ALSO THE EASY BROKEN SPARE PART IS NOT INCLUDED IN THE GUARANTEE)
Installation: after the machine arrive your factory,if you need,our technician will go to your place to install and test the machine and also training your worker to operating the machine
(The time of train depend on you worker). The expenses (air ticket ,food , hotel,the travelling fee on your country) should be on your account and you need paid for the technician USD50 per day.
also you can go to our factory to do training.
After service: If you get the problem on the machine ,our technician will go to your place to fixed the machine as soon as possible. The cost should be in your account.(as above).
ALL RIGHTS RESERVED by ®SHENZHEN PENGLAI INDUSTRIAL CORPORATION LIMITED