CERTIFICATES

CONTACT US

Email:jackdu999@yahoo.com

Tel:+8675586718316
Phone:+86-15811882441
Brasilian customers bought pharmacy syringes filling capping labeling line with IPC system
Published by: PENGLAI INDUSTRIAL CORPORATION
Date:2019-05-14 10:02:30
Our customers from Brasil (South America) placed the new order on one(1*) whole line of syringe filling capping labeling with IPC+Codes printing system;
For all the machines purchased it is clear to confirm all the information on the products so we often ask our customers to freight the samples to test and commission the machines in order that the machines and customer's products gains the best compatibility and adaptability.
After getting the confirmation &samples of the product in sizes and drawing for manufacturing the filling sealing labeling printing machines
we spent only KSA7 working days finishing everything and made the machines ready after testing them in a satisfactory feedback.
Recently our customers sent us the positive commentar on the machines which keep running very well in their factory ever since the machines arrived their factory.
The machines was shipped via Ocean to . The documentaries certificated with ISO&CO&CE together with other files necessory are sent via DHL to customer for assisting customers to clear the custom.

As below there listed the basic information on the successful transaction between PENGLAI and their American counterpart:

Purchased order issued from Brasilian customer: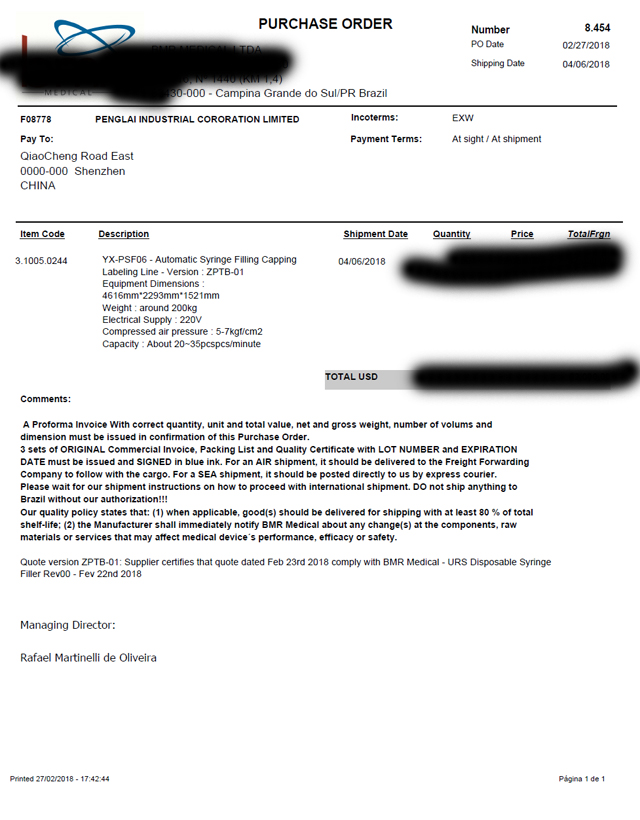 Samples sent from customers in South-America

Bank copy of Down&balance payment for purchasing filling sealing line model YX-PSF06

Testing videos on Model YX-PSF06 Syringes filling sealing machinery:
Wooden case packing of filling closing labeling printing line model YX-PSF06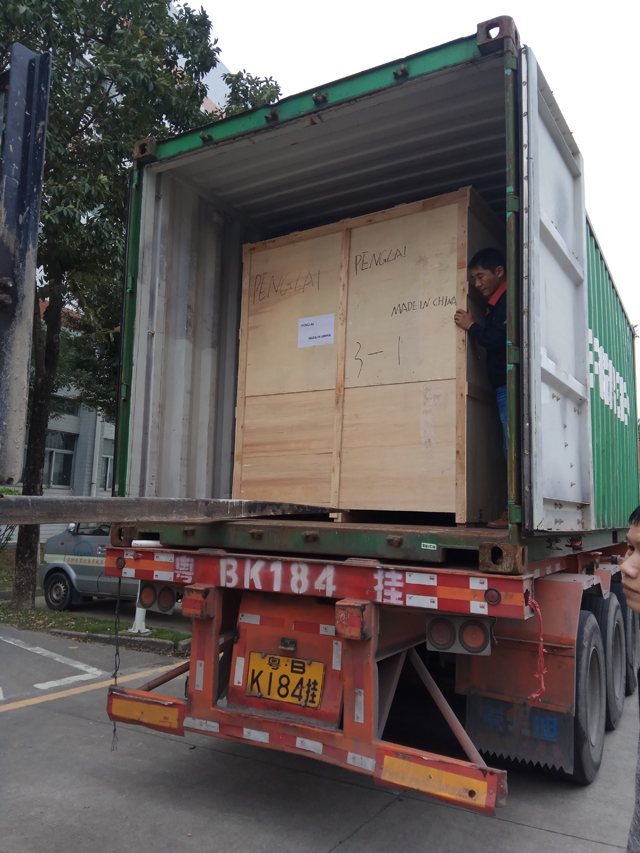 As follow there given the description on the machines purchased respectively:
The whole syringes filling sealing labeling line is specially manufactured for our Brasilian customer.
The product is Normal Saline in Pharmacy use. The whole line includes the part such as :
Syringes lifting feeding system;
Filling sealing part model YX-PSF06;
Connection part;
Horizontal labeling machine Model YX-BS200;
IPC system; Laminar Flow Class 5;
Before being shipped to Brasil the machine was approved and verified by the FAT whose details are given as below:
Factory Acceptance Testing – FAT
Automated disposable syringe filler
Main parts of the Equipment
2 Fluid Loading Station : Fluid loading station must be able to handle different reservoir sizes ranging from 1L to 100L, compatible with 0,9% Saline Solution viscosity and pH.
2 Syringe Loading Station: Loading Station for 10mL AND 20mL assembled syringes
2 Loading Station for luer lock caps
2 Filling Station
2 Labelling station
Good Manufacturing Practices
4.1.4 The equipment surfaces shall be stainless steel minimum grade 304 and shall be finished to give a uniform smooth finish
4.1.5 Equipment parts that will have contact to the Solution to be filled shall be stainless steel minimum grade 316L and shall be finished to give a uniform smooth finish, polished
4.1.8 Plastic parts should be constructed preferred in Delrin
4.1.9 Gaskets and or rubber parts should be made on medical grade silicone
4.1.10 Equipment should be supplied with Installation Qualification (IQ), Operational Qualification (OQ) and Performance Qualification (PQ) protocols
Dimensional Requirements
5.1.2
5.2.1 Cleanroom internal doors are 1800mm x 2000mm equipment or its parts should be able to clear pass these doors.
Equipment height should be lower than 2000 mm
6.1.1
6.1.2 General electrical power supply:
1 x 220 V (60Hz) or
3 x 380 V+P+N (60 Hz)
All the electrical equipment must be designed for a 60 Hz frequency
No 110-120V available in the facility

6.1.3 Compressed air supply: Pressure range 7 – 10 bar
7.1 Equipment shall be labelled
7.2 In/Out cables of the control system be label and comply with the drawings.
8.1 Equipment shall be packed in proper manner for ocean shipments, such as wooden case.
8.2 Minimum warranty of one year after installation, excluding normal wearable parts, accidents or misuse
Documentation and Manuals
9.1.2
9.1.3
9.1.4 User guideline and manuals, process descriptions
9.1.5
9.1.6
9.1.7
9.1.8 Drawings, PIDs, Electrical diagrams, Components list and components documentation
9.1.9 Maintenance guide and procedures
9.1.10 IQ/OQ/PQ Protocols
9.1.11
9.1.12 Calibration procedures and Certificates
SECTION II – SYRINGE FILLING STATION
10.1.1 Production Capacity Output, minimum 1,000 syringes per hour
10.2.1
10.3.1 Filling volume shall be adjustable and capable to deal with volumes varying from 3 – 60 mL with accuracy of +-3%
10.4.1
10.4.2
10.4.3 Equipment shall be supplied with automatic syringe feeder
Equipment shall be supplied with customs tooling for ISO 7886:2005 10mL AND 20mL luer lock plastic syringe according to samples supplied
10.5.1 Equipment shall be supplied with automatic feeder for luer caps
10.5.2 Equipment shall screw the cap in the syringe after filling
10.5.3 Screw torque or number of turns shall be adjustable
10.6.1
10.6.2
10.6.3
10.6.4 Filling lines shall be flexible and possible to use sterile and disposable tubing
Hard parts in filling lines should be reduced as far as possible
Fluid container shall be compatible with standard IV bags of 500mL or 1L
10.7.2 Equipment shall be equipment with laminar flow in the filling area with class 100 (ISO class 5) to avoid particle contamination compliant with EN 14644.
10.7.3 Equipment shall be equipped with variable air flow system and controlled by PLC
10.7.4 Filter specification shall be detailed in the equipment documentation for maintenance and change proposal
10.8.1 Syringe Output from the filling and capping station to the labelling equipment shall be done by an automatic transfer system
SECTION III – LABELLING EQUIPMENT
11.1 Labelling Capacity
11.2 Label Specification
11.3 Printing Software
Installation and Commissioning
12.1.1 Supplier to detail any special service or installation requirements.
12.1.7 Equipment must support 21 CFR Part 11 requirements for electronic records.
12.1.8 Hardware/software back-ups should be available in case of systems failure
12.1.9 Procedures should be provided for system recovery

The machine model YX-PSF06 Medical gel syringe filling plugging sealing pharmaceutical packaging equipment is suitable for liquid &rubber plugging on glass or plastic syringes. other types of syringe are also up to custom made.
6 nozzles are for filling simultaneously .plugging can be either by pressing down or screwing ways.
Plugging is done parallelly with filling .multi points inspection with optical fiber sensors. neither filling nor plugging when syringe is missed.
All product contact parts are of AISI316L and medical silicon.
Actual working status can be displayed on touch screen with multi languages.
Rotating plunger pumps are driven with servo motor. Precision adjustment can be made on touch screen without any tools. each plunger pump can be adjustable slightly
Working flow from Brasilian-purchased filling capping labeling syringes machinery model YX-PSF06:
1. Syringe elevator feeding empty syringes
2. Syringes fall down to slide track guidef to turntable 3.Rotary one syringe to pressing mechanism position,empty the air inside syringe.
4.Rotate syringes in position& six heads filler heads start filling
5. Vibrating bowl feeding caps and deliver to capper, finish capping.6. Rotating turntable to discharge the filled sealed syringe. 7. Worker monitor the completed product.
8. Robot hand picks up the syringe and deliver to labeling station.
9. Syringe in position and finished labeling process.
10. Robot hand discharge the product on the conveyor
Application of syringe for filling plugging capping sealing labeling line:
Pre-filled syringes have emerged as one of the fastest-growing choices for unit dose medication as the pharmaceutical industry seeks new and more convenient drug delivery methods. Pharmaceutical companies are able to minimize drug waste and increase product life span, while patients are able to self-administer injectable drugs at their home instead of the hospital.
The market has expanded and is exploring all options outside of the traditional process. In the past, glass syringes dominated the market, but there has been a movement toward plastic and disposable syringes. Pre-filled syringes have also been utilized across a wide range of therapeutic sectors, such as vaccines, blood stimulants, and therapeutic proteins.
Eliminating dosing errors and ease of use are two of the greatest advantages of pre-filled syringes. However, there are a number of challenges that manufacturers face, such as the interaction between the pre-filled syringes and the drug, stability concerns, and quality control.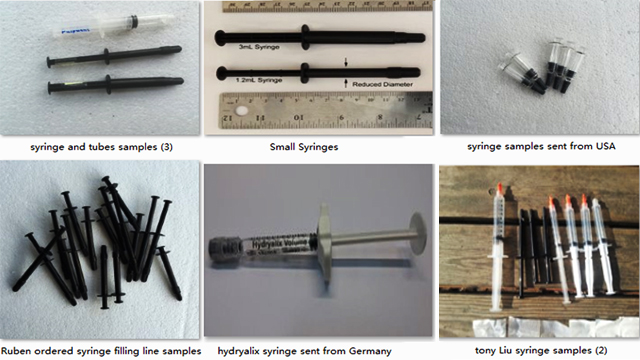 Machine drawing model YX-PSF06 Fill-seal printing set
Basic parameter of pre-sterilized syringe filling plugging capping machine: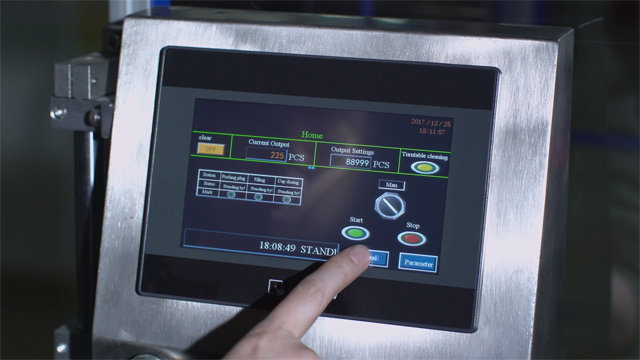 | | |
| --- | --- |
| Model | YX-PSF06 |
| Filling volume | 0.5ml-100ml |
| Number of filling head | 6sets |
| Capacity | 1800-3600 syringes/hour |
| Sealing method | Pressure or screw |
| Compressed air | 6kg/cm2,0.15m3/min |
| Supply | 3P 380V/220V 50-60Hz 2.0Kw |
| Dimension | 1800*800*1700mm (L*W*H) |
| Net weight | 750Kg |
Details pictures for machines syringe filling capping equipment:
Parts for syringe pre-filled injector loading system
Component origin
| | | | | |
| --- | --- | --- | --- | --- |
| NO | NAME | QTY | ORIGIN | REMARK |
| 1 | Filling needle | 1 | Self-produce | 316L,mirror polish |
| 2 | Ceramic pump | 1 | Jiangsu | |
| 3 | Ceramic valve | 1 | Jiangsu | |
| 4 | Transmission motor | 1 | Jiangsu.Deli | 0.75KW |
| 5 | Servo Motor | 4 | Taiwan,Delta | 400W |
| 6 | Touch screen | 1 | Taiwan,Eview | 7 inches |
| 7 | PLC | 1 | Taiwan,Delta | |
| 8 | Air-break switch | 6 | Zhejiang,CHNT | |
| 9 | Lead screw | 4 | Taiwan,Sheheng Jaan | Ball screw (high resolution) |
| 10 | Linear guide way | 6 | Japan,IKD | |
| 11 | Solenoid valve | 12 | Japan SMC | |
| 12 | Cylinder | 12 | Tawiwan Airtac | |
| 13 | Optical fiber | 3 | Japan Panasonic | |
| 14 | Pressure controller | 4 | JAPAN SMC | |
| 15 | The isolation glass | 6 | ACRYLIC | 8mm thickness |
Syringe filling -capping-labeling line for our USA customer:
Pre-syringe filling sealing line for Turkey customers:
CE test declaration(part)&CE report(part)
Samples&Final product output
Wooden case packing for pre-syringe filling line
ALL RIGHTS RESERVED BY ®SHENZHEN PENGLAI INDUSTRIAL CORPORATION LIMITED