CERTIFICATES

CONTACT US

Email:jackdu999@yahoo.com

Tel:+8675586718316
Phone:+86-15811882441
Australian regular customers purchased 3pcs dual head liquid fillers &2pcs pneumatic cappers
Published by: PENGLAI INDUSTRIAL CORPORATION
Date:2021-08-12 19:08:22
Our Regular customers from Australia (Oceania continent) placed another order on Five(5*) pcs of machines: Three of them are filling pneumatic tabletop model YX-LC05-500ml; the other handheld capping machine pneumatic capper Model YX-PC60A.
For all the machines purchased it is clear to confirm all the information on the products so we often ask our customers to freight the samples to test and commission the machines in order that the machines and customer's products gains the best compatibility and adaptability.
After getting the confirmation &samples of the product in sizes and drawing for manufacturing the filling+lhandheld capping machines
we spent only 10 working days finishing everything and made the machines ready after testing them in a satisfactory feedback.
Recently our customers sent us the positive commentar on the machines which keep running very well in their factory ever since the machines arrived their factory.
The machines was shipped via DHL courier to Melbourne, Victoria, Australia 3042 . The documentaries certificated with ISO&CO&CE together with other files necessory are sent via DHL to customer for assisting customers to clear the custom.

As below there listed the basic information on the successful transaction between PENGLAI and their Australian counterpart:

Purchased order issued from Australian customer:


Samples sent from customers in Oceania continent


Bank copy of Down&balance payment for purchasing two heads filling machines and handheld cappers:


Testing videos on two nozzles filling machines &pneumatic capper equipments handheld type:


Wooden case packing of Filling capping machines semi automatic equipments.


As follow there given the description on the machines purchased respectively
The machine liquid&cream filling double head is suitable for filling food trades(such as: pearl milk tea,nata de coco ,thick broad-bean sauce, chili sauce, peanut sauce etc);cosmetics(shampoo frost shower gel);daily health product(toothpaste)
The machine cream filling pmeumatic semi automatic double heads adopts pneumatic working principle, simple operation, high filling precision, is a certain concentration or certain size granular materials ideal filling equipment.
Basic features of filling machine double head model YX-LC05 series
1,Be used for filling with fluid liquid and other material;
2,Some of the materials used 316L stainless steel;
3,Full pneumatic control, easy to operate,remove and clean.Ideal equipment for filling inflammable, explosive materials.
Function of Control Panel from cream filling machines model YX-LC05 Series:
Semi Auto/Auto filling switch
Air Pressure Gauge
Air Intake Pressure Adjust
Filling Volume Adjust
Model YX-LC05 Double heads liquid filling machine semi automatic for 1000ml cream filling

Model YX-LC05-1000ml Double heads liquid filling machine
semi automatic for 1000ml cream filling
Material of machine : Stainless steel 304
Fillable range : 1000ml
Air pressure range : 4-6kg/cm2
Filling speed : 0-30bottles per minute
Net weight : 60KG
Gross weight : 80KG
Filling head : Double heads
Machine dimension:1200*550*595mm
Stainless Steel Body machine
Rugged Rotary Valve System Design
Pneumatic piston filling
Piston Feed Speed Adjustable
Anti-drip and filling head place and height adjustable
High Filling Accuracy (+/- 1%)
Detailed shot of double heads cream filling machine model YX-LC05 series
Wooden case packaging before DHL delivery door to door service
Machines in stock &plant for storing &manufacturing
FAQ on double heads liquid&cream&lotion&sauce filling machine model YX-LC02-1000ML
►Is it used for liquid or paste ?
-- it is suitablefor pure liquid.
►What is the viscosity?
--Suitable to fill low to high-density liquids (0 – 10,000 cps)
►what is the detail specification?
1).Material of machine:Stainless steel 304 meet GMP approved.
2).Fillable range :90-1000ml
3).Air pressure range : 4-6kg/cm2
4).Filling speed : 0-30bottles per minute
5).Filling head: single head
►How to Maintenance machinery.
1).Please regular inspection equipment the fuselage for stainless steel shell, when clean do not use tip, hard edge tool scrape the surface
2)Usable alcohol scrub surface besmirch.
3). wear the ring to change in time.
►Why buy it from you?
Because our products is high quality and lower price than other supplier, and meanwhile, we will supply you the better service for you, especially after-sale service. And we can give you Technical guidance, when it does not work effectively.
►Do you have warranty for it?
Yes, we have warranty for it. 12 months limited Warranty for defective items (excluding items damaged and/or misused after receipt). Accessories come with a 3-month warranty.
►Which ways can you shipping it?
We can send it by express UPS, DHL, FEDEX and EMS, for 3-5 days. Or if your order is lager quantity, we can send by sea, maybe it will cost a long time.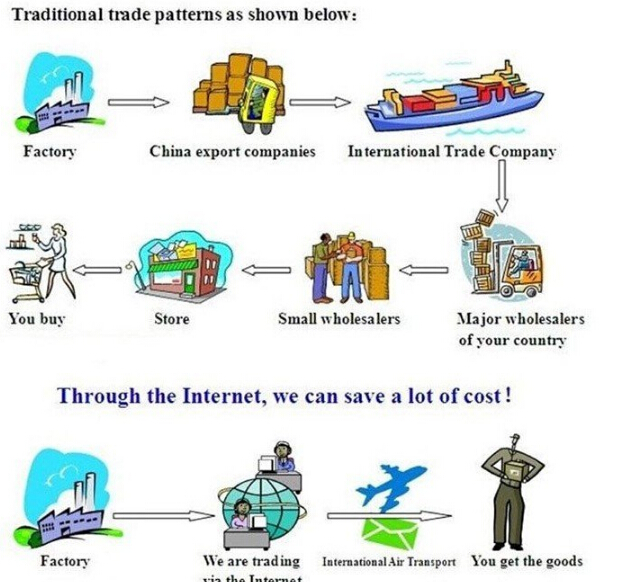 Handheld capping machine pneumatic capper:
Hand-held Pneumatic Capping machine is widely applicable to any thread cover unscrew or screw it has a wide range of screw cap,
screw capping without bottle height, shape, size, weight restrictions, then
unscrew the cap and unscrew the cover, convenient operation, low failure rate, low price and so on,
is the best weapon tighten the screw cap. Especially suitable for high, larger, heavier bottle
or bottle shape strange, or lid specifications, requiring the use of frequent replacement of screwing head.
The adjustable clutch which can effectively avoid the cap damage, and reduce the inner wear.
Once the cap screwing, card head automatically stops rotating, indicating that you can move on to the next bottle.

The Handheld Capping machine is simple in operation, medicine, pesticide, lubricating oil, cosmetics,
and other industries ideal for small batch production.

In equipment operation, It can be chosen the appropriate support,
balancer, can then be capping machine portable.
neatly screwed up. The device effectively reduces the labor intensity, guarantee the capping quality.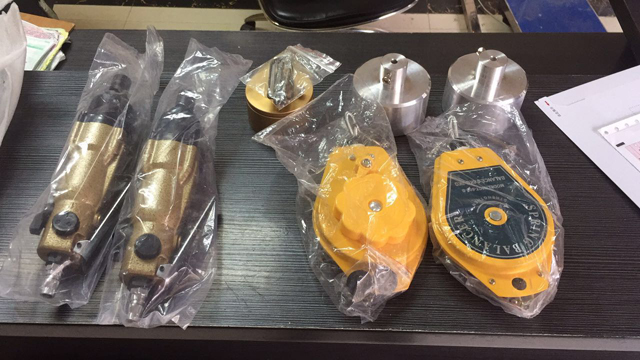 OPERATION
Put Chuck onto the Cap to be tightened
Push down switch to active the Capper
The Capper starts and tightens the cap
The Capper automatically shuts off while reaching the pre set torque
Technical parameters of model YX-PC60A capping machine pneumatic capper:
| | |
| --- | --- |
| Model | YX-PC60A |
| Capping range | 5-30mm 30-90mm |
| Working speed | 30bottle/min |
| Machine weight(N.W.) | 0.6kg/1.1kg |
| Gas pressure | > 4.5kg/cm2,<6.2kg/cm2 |
| Gas consumption | 0.08m³/min |
| Quick joint | 1/4 Inch |
| Clutch | Adjustable |
The pneumatic capping handheld capper with two capping heads&tripodal support: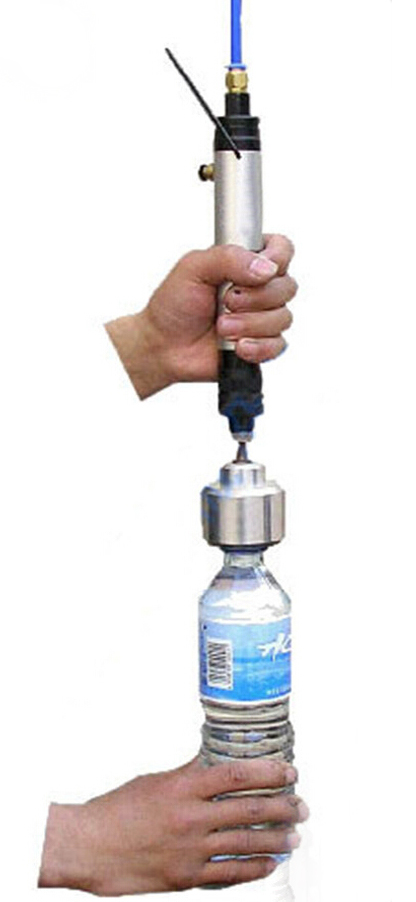 Portable capping machine for Mineral water capping