CERTIFICATES

CONTACT US

Email:jackdu999@yahoo.com

Tel:+8675586718316
Phone:+86-15811882441
Saudi Arabia customer for perfume filling inner for plugger capping machinery fully automatic
Published by: PENGLAI INDUSTRIAL CORPORATION
Date:2014-02-09 19:06:09
YX series Small dose filling +plugger +capping +overwrapping machine for 30/50/100ml perfume bottles.
On 9th Feb we received the down payment from Saudi Arabia customers Executive Manager Imad Almuzain who wants
to finish the production of the perfume in three kinds bottles in volume: 30ml/50ml/100ml.the pictures taken as below:
we offer the project for it as below,and will finish the whole production by perfume rotary filling capping +fully automatic 3D overwrapping packaging machinery
within 21 work days. (The model according to different sizes of bottles the model needs to be charge. 50ml/100ml should be customized with another two moulds)
Below are the detailed information about the line
---
Ⅰ.perfume filling capping machine for perfume bottles with 30ml/50ml/100ml
Technical parameter:
Bottle specification:30ml 50ml/ 100ml(more larger volume can be customized)
Power:220V-50Hz/ 1.2KW
Overall dimension: 2500×850×1600(mm) weight: 600KG
Production capacity:
4 filling nozzle&2 capping head: 1800-2400bph
Filling error: ≤±1% (Standard quantity )
Yield of capping-rotating: ≥99%
Functions:
1. The machine is used for Mitsubishi frequency motor control , easy to operate ,stable and reliable operation
2 The machine is suitable for various specifications of bottles .
3. Regulation bound is wide; it can be foundation the cover the pathway magnitude and bottom level, adjustable screw machines in the framework of any regulation
4. Frequency capping round speed motor control, conveyor belt clip bottle. Electronic governor motor control shelters, and conveyor belt speed of pitch, use screw-cap regulation may be the best point.

5. Screw-cap, the cap will not skid, broken bottles of body will not nap, compared with claw-type screw machine, the work efficiency many times.
6.Adopt stainless pump in common use, or ceramic pump in special use to fill high precision, large range of adjusting dosage.
7. Ceramic pump installation system does not adsorption drug Chemical stability is good. Resistance high temperature, corrosion and wear

8 .Low level liquid tank, it is convenient to clean.
9. Filling system has the function of shrinking, no drop leak. Apply filling all kinds of viscosity of liquid. Filling nozzle is diving bottle to the machine, Economical and low space possessing.

10. Magnetic moment capping system, adjust, agree of tightness freely
11.The whole machine is designed according to GMP standard.
For more information please refer the video link http://www.youtube.com/watch?v=uBGxJG3QhR
4. perfume liquid filling/capping (with inner plugger)machine main configuration:
| | |
| --- | --- |
| Name | Brand |
| Button | Schneider |
| Air switch | Schneider |
| Contacts | Schneider |
| Relay | Omron |
| Fiber | Janpan |
| Main motor | Shanghai Lichao |
| Inverter | Mitsubishi |
| Air cylinder | Airtac |
| Solenoid valve | Airtac |
| Switching Power Supply | Taiwan's MingWei |
| Sensor | Janpan |
| Pump | Longer |
| Touchacreen | Taiwan weilun |
| PLC | Mitsubishi |
Ⅱ.Overwrapping machinery fully automatic 3D box packing transparent film wrapper equipment high speed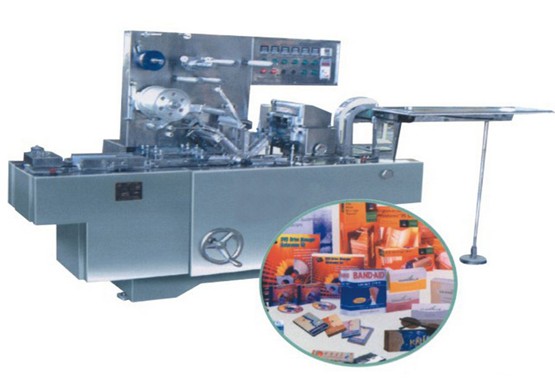 Cellophane overwrapping machine means wrap the carton box or regular shape with a lay of cellophane paper the same as the package of cigarette.
Suitable for single packaging of various box products in medicine, health –care product, food, cosmetics, stationery and audio-video etc.
Such as packing cartoned medicine, condom, playing cards, VCD/DVD/CD cassette box, tape, cigarette, eraser, napkin paper, scratchpads, biscuits, chewing gum etc.
Functional Features of Overwrapping machinery fully automatic 3D box packing transparent film wrapper equipment high speed:
This machine is designed on the basis of absorbing and digesting foreign advanced equipment,
using imported digital display transducer and elec components, stable and reliable in operation, a firm seal,
smooth and beautiful. It can do automatic packing, feeding, folding, heat-sealing, counting and automatically
sticky tear tape. Packing speed can be adjusted steplessly. Changing few parts can wrap different specification
(dimension, height, width) of box products.Three Prevention: Anti-forging, anti-damping, anti-dusting.
Improve product additional value,Improve product grade,Improve decorative quality.

Model YX-99
Wrapping speed 30-100 cases/minute
wrapping range (L)40-160mm(W)20-100mm(H)10-45mm
Wrapping material OPP/BOPP
Machine dimension (L)2000mm(W)790mm(H)1550mm
Conveyor size
(L)1020mm(W)550mm(H)900mm
Weight 930Kg
Total power 4. 5KW
Voltage 220V/380V (50Hz) single phase or three phases
---
Standard plywood packaging for exporting

After sales service: After sales service shall be done by the buyer.
PENGLAI machine will provide all kinds of technical support to the buyer
by telephone, fax or e-mail free of charge. But any service cost to buyer's country is not included.
Guarantee: Three years. The supplier can replace only the elements that are imperfect for material or handwork.
Replacement is free and ex factory. All imperfect elements have to be delivered within 12 months (carriage paid).
Guarantee excludes every worn or torn parts. Replacement handwork is excluded and it will be done by the buyer.
The supplier is not responsible for any rewards for, damages or last earnings met by buyer. Guarantee is not valid
if the machine is used the wrong way or it is not serviced as shown in our technical handbook.

ALL RIGHTS RESERVED by ®PENGLAI INDUSTRIAL CORPORATION LIMITED